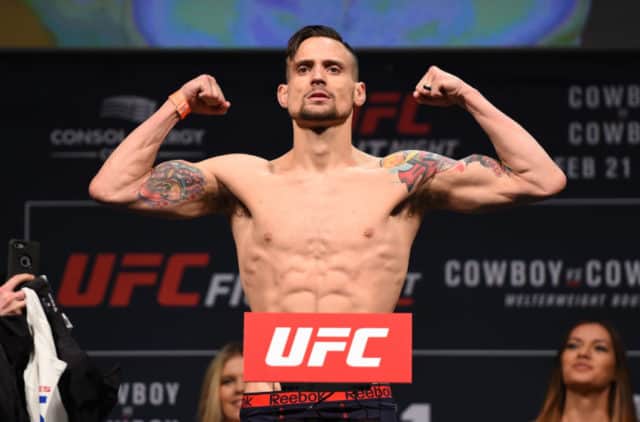 Check this one out.
UFC veteran and The Ultimate Fighter Season 25 (TUF 25) competitor James Krause cut his leg while filming this season's show, which became infected with staph. Krause documented his lengthy hospital visit through Instagram, and showed off his gnarly new eight-inch gash doctors made to go in and clean things up:
"Going home today! 10 days in the hospital, 3 (2.5ish) surgeries, but the infection is gone and I'm feeling better. Will be on crutches and will still have a PICC line for a couple weeks but all is improving!"
Krause was a part of an interesting season of TUF in which he shared the fighter house with 13 former TUF competitors, being coached by former UFC bantamweight champ TJ Dillashaw and current division king Cody Garbrandt. He had a bit of a rocky start to his UFC career after having lost three of his first five bouts under the promotion's banner, suffering defeats to the likes of Bobby Green, Valmir Lázaro, and Jorge Masvidal.
As of late, however, he is currently on a two-fight win streak with wins over Daron Cruickshank and Shane Campbell, with his win over Cruickshank coming by way of first round submission via rear-naked choke.
The show will debut on Wednesday night, April 19 at 10 P.M. on FS1.
If you enjoyed this story, please share it on social media!