Pic: Ken Shamrock Is Ridiculously Ripped Heading Into Bellator 138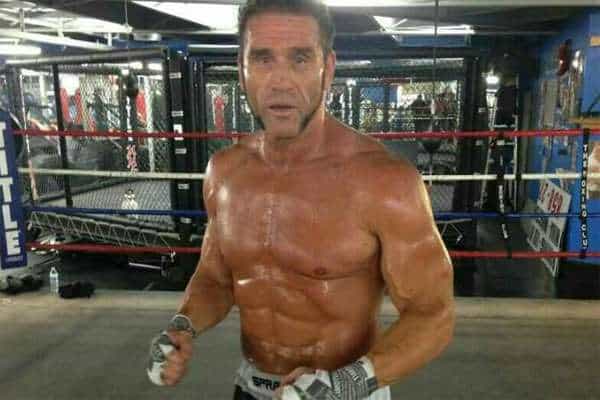 When former UFC champion and mixed martial arts (MMA) pioneer Ken Shamrock signed on to face YouTube street fighting sensation and former EliteXC flagship fighter Kevin 'Kimbo Slice' Ferguson in the main event of June 20's Bellator 138 from St. Louis, Missouri, many were quick to lambaste the booking given that Shamrock is 51 years old and has been out of fighting since November 2010.
But Shamrock recently answered those questions by posting a photo on Twitter that showed him to be in absolutely ridiculous shape despite his advancing age:
Tonight's training was great. Ready for this fight. pic.twitter.com/as0qoHuQ7S

— KEN SHAMROCK (@ShamrockKen) June 9, 2015
Now there's no questioning that Shamrock looks ripped and ready to roll against Slice in 11 days' time, but there could be even more jumping to blast him for allegedly using performance-enhancing drugs (PEDs) than they did for simply taking the fight.
We've seen a similar situation of a supposedly past-prime fighter looking a bit too ripped in the questionable case of Cung Le, who posted a photo of himself looking hulkishly huge prior to his UFC Fight Night 48 loss to Michael Bisping last August. Le subsequently failed the post-fight drug test for human growth hormone (hGH) and was suspended, but the results were ultimately thrown out and his suspension lifted when the UFC, who regulated testing given that the fight took place outside the U.S. in Macau, had not collected his samples properly.
That's not to say that Shamrock has done anything similar or is on PEDs, but there will certainly be more than a healthy amount of speculation and accusation that he without a doubt is. Judging on the photo above, do you believe the 51-year-old Shamrock has attained his bulging physique by natural means alone?