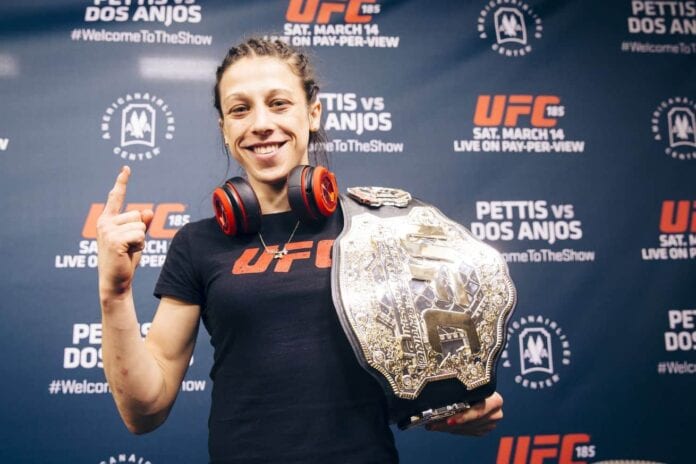 If she wasn't dominant enough already, Joanna Jedrzejczyk will now be training at one of the best camps in MMA.
Heading into her rumored bout with the surging Karolina Kowalkiewicz at November's UFC 205, the woman known as 'Joanna Champion' announced she is dropping anchor at Florida's American Top Team.
Welcome to the team @joannamma!!! pic.twitter.com/h9gshvBePU

— American Top Team (@AmericanTopTeam) September 24, 2016
Already three defenses into an impressive title reign, Jedrzejczyk will now be backed by an elite coaching staff featuring Brazilian Jiu-Jitsu world champion Ricardo Liborio, former WEC featherweight champion Mike Thomas Brown, and former UFC fighter Din Thomas. She will also join one of the most impressive stables of talent in the sport.
Among her new training partners will be Robbie Lawler, Dustin Poirier, Jorge Masvidal, Daniel Straus, Cole Miller, Will Brooks, and Kyoji Horiguchi. On the women's side, she will join former World Series of Fighting champion Jessica Aguilar and current UFC women's bantamweight champion Amanda Nunes.
Jedrzejczyk previously trained at Berkut Arrachion Olsztyn (Berkut Fight Club) in Olsztyn, Poland. Her former team boasted Mamed Khalidov, one of the best fighters in the world not signed to a major American promotion.
It's hard to imagine Jedrzejczyk having even greater success in her new training home, if only because she is already one of the pound-for-pound best in the world. She most recently defeated the woman many view as her stiffest challenge, Claudia Gadelha, for the second time. This time the victory, coming at The Ultimate Fighter 23 Finale on July 8, 2016, was convincing. The former eight-time Muay Thai champion has also defended her strap against Valerie Letourneau and Jessica Penne in dominant performances. Jedrzejczyk captured the title by eviscerating Carla Esparza at UFC 185 in March 2015.