When Anderson Silva failed his UFC 183 drug test, it shocked the mixed martial arts (MMA) community. Silva was the last person many would've expected to be popped for not one, but two types of performance enhancing drugs (PEDs).
"The Spider" has since denied taking PEDs, claiming his body is not juiced. He's also had his hearing with the Nevada State Athletic Commission (NSAC) delayed numerous times. The new date for his hearing is Aug. 7, but he may have some backup in his defense thanks to inconsistencies.
Pictures have surfaced of a clean drug test result for Sliva. Brazilian blog Na Grade do MMA reveals "The Spider" sent out two urine samples on Jan 31, 2015, just two minutes apart. Quest Diagnostics received the first sample, while Sports Medicine Research & Testing Laboratory took in the second.
The image below is the first sample, which came up negative. Take a look: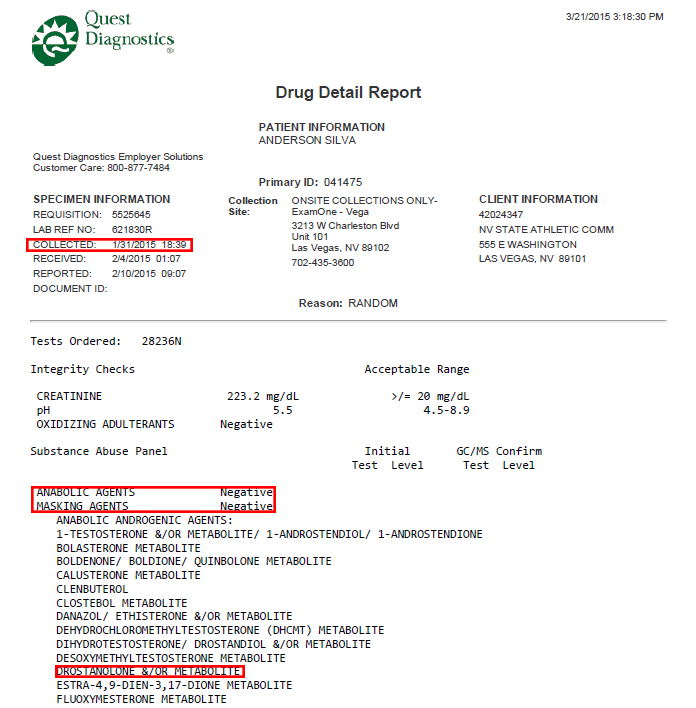 Here's the second sample, which triggered a positive result: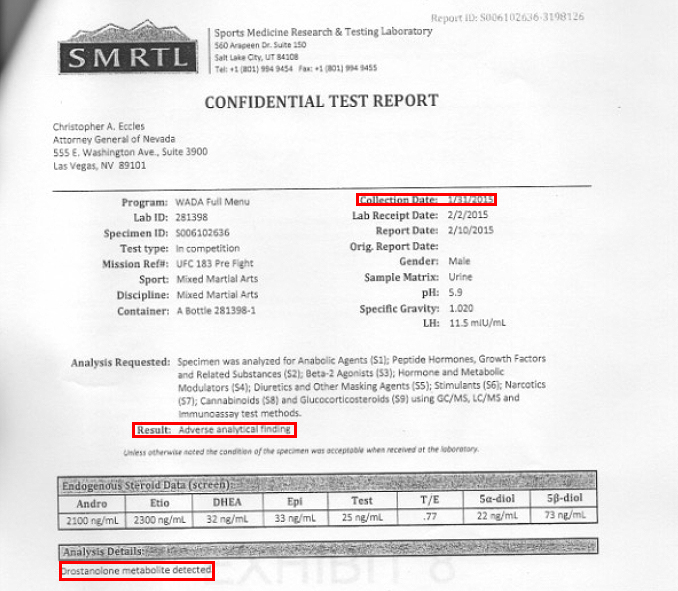 So why is this clean test result just coming out now? Deputy attorney general for the NSAC, Christopher Eccles gave Jorge Correa an explanation (via MMAMania.com):
"I consulted the Nevada State Athletic Commission (NSAC) on the reasons why this test has been ignored in the process. The case's prosecutor, Christopher Eccles, explained that the negative results are no grounds for making a complaint, but those who give positive. That is, it is not required to include this examination in the records and chose not to do so. But why, then, this test never went public? Simple: because no one had ever asked. The commission is not required to disclose or warn that this result has to hand, or even that the examination was effect, if no request to have it displayed."
Things should get interesting once Silva finally meets with the NSAC.