Photo of the Day: Junior Dos Santos Interviewed by Huge-Assed Brazilian Woman on 'TUF 13′ Set [UPDATED]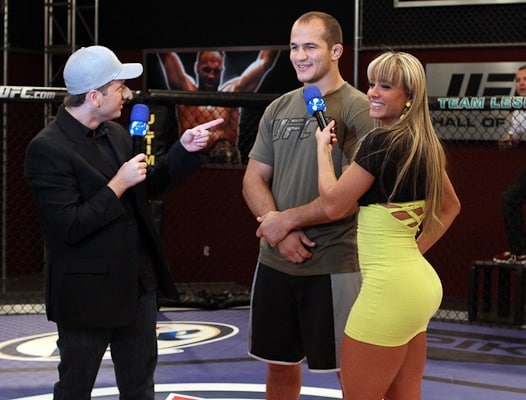 Sherdog.com released an exclusive gallery of photos from the TUF 13 training facility, and there was one picture in particular that stuck out, so to speak. In fact, the chick in the yellow dress was so eye-catching, that we almost didn't notice that her male counterpart was wearing a ridiculous fake nose. (Not sure what's up with that. Maybe he's Brazil's answer to The Garv.) You can check out the full gallery here, although we have to warn you: There's only one more photo of Girl in the Yellow Dress, and it's a lot less flattering. We've placed it after the jump, for your convenience.
Update: We've now learned that the girl in question is Juliana Salimeni, and her fans are pushing for her to be a ring girl at UFC Rio.