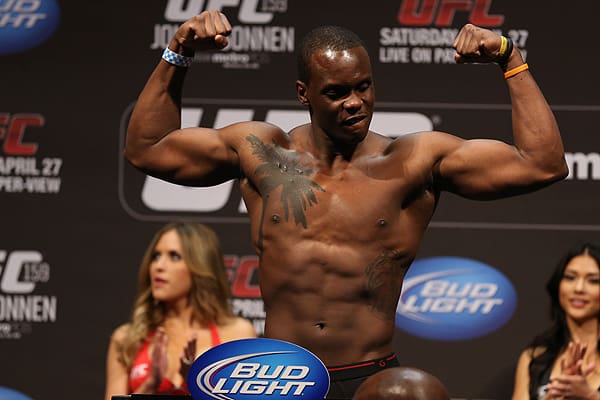 For the third time in his two-year UFC stint Ovince Saint Preux headlines a Fight Night card. The light-heavyweight will fight in front of his home crowd in Tennessee tonight (Saturday August 8th, 2015) as he takes on Brazilian grappler/striker Glover Texeira. After losing to Jon Jones at UFC 172 and Phil Davis at UFC 179, Texeira's back is against the wall, Saint Preux has experienced an upswing since his first UFC loss to Ryan Bader, knocking out Shogun Rua and Patrick Cummins in short order.
Coming in on such hot form could mean great things for 'OSP', should he win decisively against Texeira. But things haven't been this good all along, as St-Preux explains to Megan Olivi by way of MMAMania, he was once a 'do-nothing' in camp and it led to his lacklustre showing against 'Darth':
"The fight with Ryan taught me a lot. I was on a five-fight win streak and I was doing pretty good. At the same time, whatever you give in training is the output you're going to end up getting," said Saint Preux. "I didn't give a lot in training camp. I didn't do what I needed to do. Sometimes I'd wake up and was like, 'I don't feel like going to training.' I didn't go to training, so that was kind of a tell-tale sign of the fight."
The fight with Texeira is arguably the biggest challenge of 'OSP's' career, as the heavy-handed Brazilian is well versed in all areas, and packs a mean punch in the stand up. According to Saint Preux though, his UFC Fight Night 73 opponent doesn't have the drop in the KO department:
"He comes from a strong gym and has KO power. He's well-rounded all across the board," Saint Preux said. "I've faced top fighters before, too. It's just one of those things where if I go in there and implement my gameplan. If I go in there with the natural killer instinct I usually have, I'll have no problem. I tell everybody, if you blink, you might miss it. I think I probably have the most knockout power in the 205-pound weight class."
"Every fight that you see me, I'm going to be a different fighter. My fighting style might be different, but at the same time, you're going to me evolve even more and more," Saint Preux added. "I want that fight [Bader] back, but to be honest, I'm still in a good position where I'm at right now. If we meet in the near future, it's going to be a different story, but until then my eyes are just on the title."
We'll see who has the chops with the art of eight limbs when these two collide in Nashville, and it could possibly spell an early night in the main event. A loss for Ovince Saint Preux could prove costly to his title hopes, for Glover Texeira it may cost his contract with Zuffa.
Stay tuned to LowKickMMA for more UFC Fight Night 73 news and coverage throughout fight day!
If you enjoyed this story, please share it on social media!