[UPDATED] NSAC Head Says Diaz Could Have Applied for Therapeutic Use Exemption for Marijuana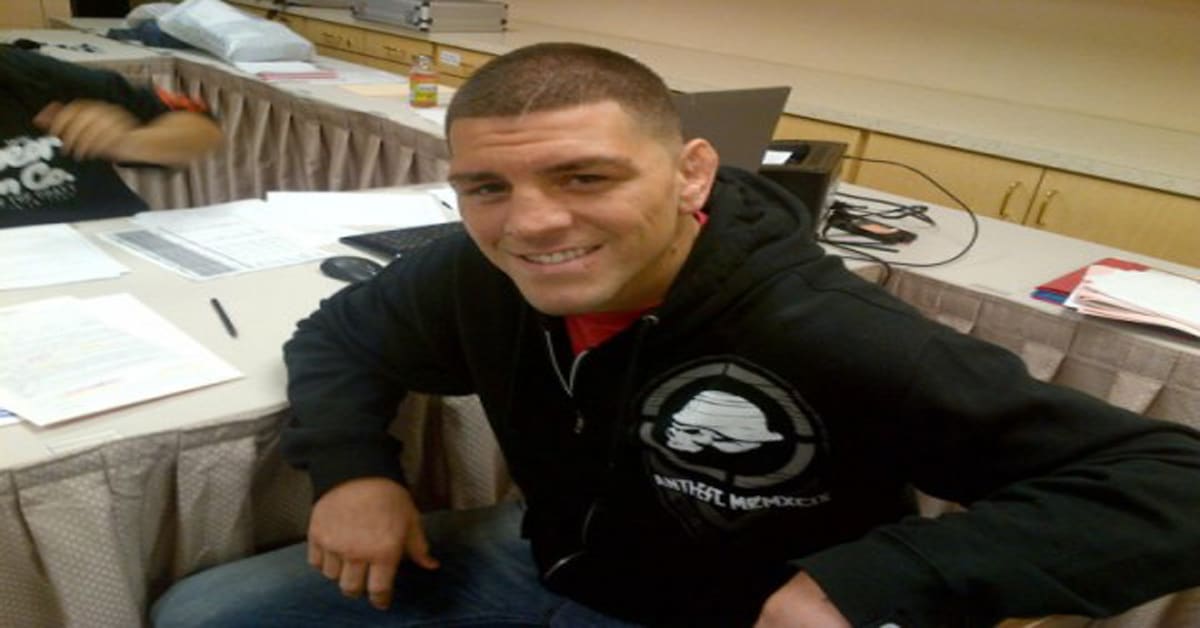 UFC welterweight Nick Diaz and his most recent positive test for marijuana after competing against Carlos Condit at UFC 143 in Las Vegas, may present Nevada with a first of its kind disciplinary situation, according to Nevada State Athletic Commission (NSAC) Executive Director Keith Kizer.  Diaz is a resident of California, where medical marijuana has been legal since 2003, and the fighter has said that he has been prescribed marijuana by doctors to treat psychological issues.
He has also stated in the past that he attempts to flush traces of cannabis out of his system in the weeks leading up to his fights in order to pass drug tests. However Diaz's most recent positive test result for for the drug, which scrapped a planned immediate rematch with Condit, is the second such one in less than five years.
According to Kizer, though, Diaz had another option: coming to the NSAC weeks before fighting and applying for a therapeutic exemption (TUE) for his marijuana use.
Given that Diaz' coach and manager, Cesar Gracie, has made a point of saying that Diaz has a legal right to use marijuana in California since a doctor prescribed it to him, one would have expected Diaz to have applied for the exemption with the commission.
But that did not happen Kizer explains, as no one from Diaz' camp has ever attempted to explain any mitigating circumstances to him about the fighter's marijuana use or tried to contextualize it to attempt for Nick to granted a therapeutic exemption. "I have no idea what [Diaz's] marijuana situation is," Kizer told CagePotato on Thursday. "No one from his camp has ever come to me or the commission and tried to explain it."
Kizer says that therapeutic exemptions are made when fighters and their doctors can convince the NSAC and its physicians that a prescribed treatment is specifically needed to address a legitimate health issue of the athlete and that the medication does not put the fighter at undue risk as a competitor or give them an unfair advantage over their opponents. Sometimes, as in the case of some antidepressants, the NSAC and its doctors feel that a fighter's condition is legitimate and that they do require treatment, but alternative medications are needed because the one initially chosen by the fighter and their doctors are deemed not safe for competitors to use by the Nevada commission.
Kizer also points out that each case is looked at individually and that if fighters approach the commission a few weeks before their fights to request a therapeutic exemption, typically that is enough time for the NSAC evaluation process to take place and for his governing body to make a decision on whether or not to grant the fighter the exception.
In the past fighters have applied for exemptions for the use of testosterone replacement therapy and more traditional prescription drugs for psychological issues, but Kizer said that no one during his tenure has ever applied for a therapeutic exemption for prescribed marijuana use. This includes Diaz.
"I've never had that – a fighter saying they want to use marijuana for medicinal purposes," he said.
Although he says that he can imagine certain drugs never being accepted for therapeutic use in Nevada, like the anabolic steroid nandrolone, Kizer stops short of saying that medical marijuana would be one of them.
The commission mailed a complaint to Diaz after his positive test after UFC  143 and he can now respond to the complaint, which is essentially at this point just an allegation. Some time this spring Diaz will likely have a hearing with the NSAC where he can plead his case and the commission will then make its findings. Gracie said recently that Diaz has retained legal counsel for the process.
Even though he did not come to the NSAC prior to any of his fights under their jurisdiction to apply for a therapeutic exemption, he can still essentially make the case that he should be granted one during the hearing.
Fighters can, in effect, explain the reasons why they took the banned substance and ask that the commission grant them an exemption to use them, Kizer says. "Sure they can. We've had that with athletes before where they come into their hearings and say that they did this or took that, explain mitigating circumstances and argue that they should be allowed to have done so," he recalls.
With medical marijuana still being relatively new in the state of California — a hotbed for mixed martial arts fighters and teams — it will be interesting to see if more and more fighters begin to ask for exemptions to use it, and how the NSAC responds to their arguments.
*Correction made at 1:23 pm ET on 02/17/2011: Mr. Kizer contacted CagePotato.com to clarify that although a fighter can argue that he or she should be granted an exemption for a banned substance and that their fine and suspension be reduced due to mitigating factors that necessitated the use of the prescribed drugs, NSAC will not retroactively grant a TUE for a substance that was not approved prior to the bout in question.