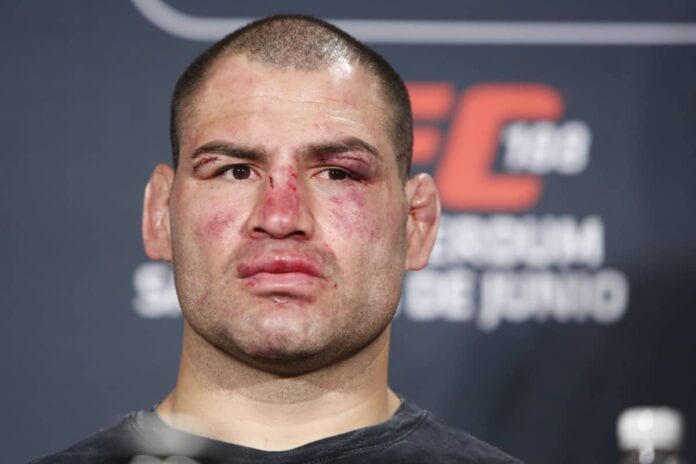 As we previously reported, the Nevada State Athletic Commission (NSAC) has made the decision to pull former UFC heavyweight champion Cain Velasquez from his scheduled match-up with Fabricio Werdum at UFC 207 this weekend (Friday December 30, 2017).
No official reasoning was given for the decision, however, yesterday (December 25, 2016) the NSAC released an official statement (courtesy of ESPN) explaining their decision to remove the former Mexican champ from the card:
"Based on medical records, interviews and the best judgment of Chairman Anthony Marnell, attorney general J. Brin Gibson, the executive director's office and our physicians, in an effort to protect the health and safety of the athletes, it's been determined Cain Velasquez is unfit to fight. The financial incentive for fighters to compete is strongly compelling, and it is the responsibility and obligation of this commission to intervene when excessive risks are evident. It's obvious Mr. Velasquez is physically compromised and competing would place him in significant physical risk."
The UFC would also issue a statement of their own in regards to Velasquez's situation:
"Saturday afternoon, UFC was informed by the Nevada State Athletic Commission that Cain Velasquez is unfit to fight. As a result, the former two-time heavyweight champion has been removed from his Dec. 30 bout against Fabricio Werdum at T-Mobile Arena in Las Vegas. UFC 207, which is headlined by the women's bantamweight title fight between Amanda Nunes and Ronda Rousey, will proceed with 10 bouts."
Velasquez admitted that he had been dealing with a nagging nerve injury and had already scheduled a surgery to correct the issue after the conclusion of his bout with Werdum. The AKA product also stated that he had been using CBD oil to help deal with some of the pain he'd been feeling leading up to the contest.
Despite the removal of the critical heavyweight bout, the main card retains its two bantamweight title bouts between Cody Garbrandt and Dominick Cruz, and Amanda Nunes and Ronda Rousey.
UFC 207 goes down live on pay-per-view (PPV) from the T-Mobile Arena in Las Vegas, Nevada on Friday (December 30, 2016).