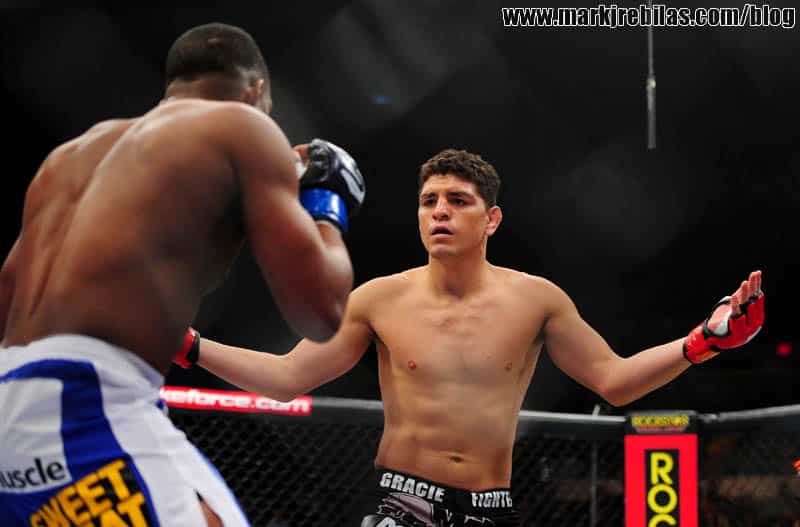 (We know, Nick. It's crazy what you have to put up with. Photo via MarkJRebilas.)
Last night, MMAJunkie posted a lengthy sit-down with press-conference dodging UFC welterweight Nick Diaz, in which Nick shared his thoughts on getting bumped from his UFC 137 title fight against Georges St. Pierre, and subsequently re-booked against BJ Penn. Obviously, he's pissed and none of it is his fault. To summarize: If Nick had known that the fight was dependent on him showing up to press conferences, he would have attended them, and he didn't even know what he was being asked to attend in the first place, and he'd already requested that all of his PR obligations take place in California, so what the hell, right?
In Nick's ever-warped perception, the real bad guy in the situation is Georges St. Pierre, who didn't protest when the UFC canceled the fight. And now, friends and neighbors, it's personal:
"I really don't appreciate this mother [expletive] sitting there at that press conference and laughing at me," Diaz said. "That's some real bitch [expletive]. He's sitting there laughing like it's funny or something. If I saw Georges on the street and called him a bitch, I bet you he wouldn't do [expletive]. I bet you if I walked up and gave him a slap, I wouldn't be surprised if he didn't do [expletive]. But you can't do that to me. That's not how it works for me. That's something to fight about.
"It makes me mad that Georges is going to sit there and call himself a fighter, but he's not going to stand up and say something about this. He's going to let it ride. I think I would say something. I would at least have said, 'I disagree. I don't agree with canceling my fight because of some dumbass [expletive].' Instead, he sat there and said, 'He doesn't have the commitment to be a champion.' What is that? I obviously have the commitment to throw my life away. I've thrown my life away and sacrificed everything so that I can fight. I did that. I threw my life away so I could work hard and train and fight. That's commitment…
"I wasn't going to say anything in the buildup to fighting Georges," Diaz said. "I was going to be really respectful. Georges is a great fighter. But he's a little bitch when it comes to fighting me right now. Why is he just going along with everything? To say I don't have the commitment? I don't understand. He's the one that doesn't have the commitment.
"I know sometimes I sound like a nut when I'm talking, but there's a lot of [expletive] to this situation. It's ridiculous that I have to be the only one explaining what goes on behind the scenes. One of the things that has always helped me out in my career is that I've never dealt with this. Other people dealt with this. Now everybody is putting the blame on me. I think that needs to come off, and I think that Georges St-Pierre is a little bitch for not saying anything about it. He's like, 'Yeah, switch it to Condit. That's easier. I'd love to fight my buddy. I'd love to fight my pal'…
"I didn't know there was a press conference," Diaz said. "I thought I was going to do some sort of PR video shoot. I didn't know exactly what I was doing, and they say I wasn't able to deal with it all. I guess I wasn't. I was too busy training to whip George St-Pierre's ass, which I thought was more important...
"The bottom line is Georges is being a little bitch," Diaz said. "He didn't step up and say anything when the UFC pulled me out of this fight. I understand sometimes you have to do what you're told, but why wouldn't you tell the media you still want to fight me? If I was Georges, I would want to fight the best. I would have asked for the Anderson Silva fight. I would have asked to fight the Strikeforce champ. But he sits there like a robot and doesn't say anything at all, just like he's not going to say anything about me calling him a bitch now. If I saw B.J. Penn walking down the street and called him a bitch, we would be fighting right there on the spot.
"The truth is Georges doesn't want to fight me in the street or in a cage. He knows who I am, and he knows where I came from. I don't have the commitment? I'm younger than him, I have more wins in my career than he does, and I've worked harder to get where I am. He knows the truth, and he didn't say anything and won't say anything because he doesn't want to get his ass whipped by me the same way he got his ass whipped by Jake – the night we went to the press conference and Georges went to the hospital."
For the record, St. Pierre's trip to the hospital after UFC 129 was due to Jake Shields illegally poking him in the eye during their fight. That's what Nick is taking pride in, here. Just wanted to clarify.
As for GSP not sticking up for him when the UFC cancelled their fight, Diaz has been in the game long enough to know what's expected of him as a main-eventer. St. Pierre couldn't comprehend why Diaz would ditch the press conferences, when he took time out of his own busy training schedule to attend, so good luck finding sympathy there. And as for Diaz's claim that he wasn't clear on what he was being asked to show up for, it seems highly doubtful considering the lengths that Cesar Gracie went to in trying to make it happen.
At the end of the day, it wasn't Gracie's responsibility to get Diaz to the ball on time, and it wasn't St. Pierre's responsibility to throw a tantrum to keep the match together. That leaves one person that Diaz can blame. Hmm. I wonder who that could be?