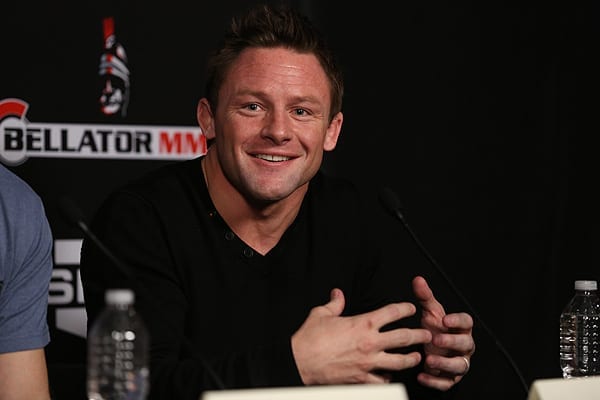 Bellator MMA has announced some changes to the cards for this weekend's events, Bellator 166 and Bellator 167. Undisclosed injuries to both Emmanuel Sanchez and Patricky "Pitbull" Freire have forced them to withdraw from their fights at the events. Sanchez was supposed to fight AJ Mckee but now with his injury, Ray Wood (7-2) has agreed to face McKee at the event. This will now be the co-main event for Bellator 166 while a bantamweight world title fight rematch pitting Eduardo Dantas (18-4) against Joe Warren (14-5) will serve as the main event.
The original co-main event of Saturday's card, Darrion Caldwell (9-1) versus Joe Taimanglo (23-6-1) has been promoted to the featured bout of Bellator 167 due to Freire pulling out of his main event fight with Derek Campos.
Bellator 166: Dantas vs. Warren 2 airs live and free Friday on SPIKE at 9 p.m. ET/8 p.m. CT., while Bellator 167: Caldwell vs. Taimanglo 2"airs live and free Saturday on SPIKE at 9 p.m. ET/8 p.m. CT. Preliminary bouts for both events will stream live on Bellator.com and The Bellator Mobile App. Tickets for the unique doubleheader event start at just $45 and can be purchased at the WinStar World Casino & Resort Box Office, as well as Ticketmaster and Bellator.com.
Here are the updated cards:
Complete "Bellator 166: Dantas vs. Warren 2" Main Card
Bantamweight World Title Main Event: Eduardo Dantas (18-4) vs. Joe Warren (14-5)
Featherweight Co-Main Event: AJ McKee (5-0) vs. Ray Wood (7-2)
Bantamweight Feature Bout: Marcos Galvao (17-7-1) vs. L.C. Davis (23-7)
Middleweight Feature Bout: Chris Honeycutt (8-1, 1 NC) vs. Ben Reiter (17-1-1)
Preliminary Card
Featherweight Preliminary Bout: Treston Thomison (9-4) vs. TBD
Lightweight Preliminary Bout: Chris Jones (10-4) vs. Derrick Adkins (7-2)
Welterweight Preliminary Bout: Chance Rencountre (8-2) Levi Queen (8-3)
Middleweight Preliminary Bout: Gregory Babene (17-11) vs. Emiliano Sordi (14-5)
Catchweight Preliminary Bout (210 lbs.): Kinny Spotwood (2-2) vs. John King (4-3)
Complete "Bellator 167: Caldwell vs. Taimanglo 2" Main Card

Bantamweight Main Event: Darren Caldwell (9-1) vs. Joe Taimanglo (23-6-1)
Featherweight Co-Main Event: John Teixeira (19-1-2) vs. Justin Lawrence (9-3)
Flyweight Feature Bout: Ilima MacFarlane (4-0) vs. Emily Ducote (4-1)
Welterweight Feature Bout: Chidi Njokuani (15-4, 1 NC) vs. Andre Fialho (7-0)
Preliminary Card
Light Heavyweight Preliminary Bout: Jarod Trice (Debut) vs. Tommie Britton (Debut)
Lightweight Preliminary Bout: Jonathan Gary (11-6) vs. Aaron Roberson (5-4)
Featherweight Preliminary Bout: Brandon Philips (6-2) vs. Stephen Banaszak (5-5)
Welterweight Preliminary Bout: Justin Patterson (7-1) vs. Codale Ford (11-8)
Welterweight Preliminary Bout: Fernando Gonzalez (Debut) vs. Chris Hicks (3-8)
Heavyweight Preliminary Bout: Joey Soto (0-1) vs. Bronson St. Romaine (Debut)