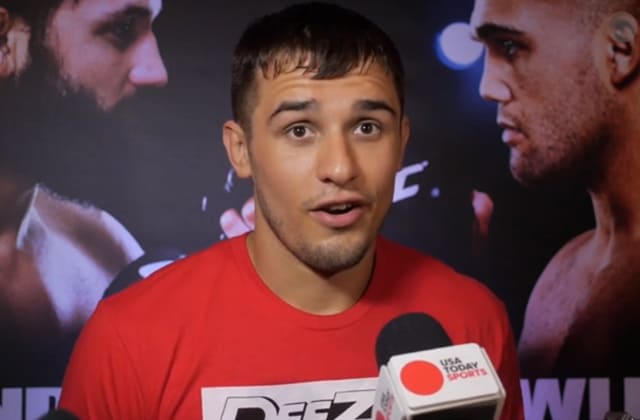 Myles "Fury" Jury established himself as a hot prospect in the lightweight division by going 15-0 to start off his career, and by rattling off six-straight wins in the Octagon. He was then on the brink of becoming a legitimate title contender, but he ultimately fell short to current title challenger Donald Cerrone last September, and has now decided to move down to featherweight.
"Fury" will have no easy task in his 145-pound debut, as he is scheduled to take on dangerous submission artist Charles "do Bronx" Oliveira at UFC on FOX 17, but Jury is extremely confident that the switch in weight classes will be a successful move:
"I was hell on wheels at 155," Jury told MMA Fighting. "At [145], nobody is gonna beat me. I just want to get this first fight, get the cut down and go through that process. After that, I'll be able to take on anybody."
After cleaning up his diet, Jury ultimately thought dropping down in weight would be best, as he will now most likely have a significant size advantage over the fellow 145-pounders:
"I'm training hard and I'm eating good," Jury said. "What am I gonna do? I'm not a B.J. Penn. I'm not a world champion yet trying to fight up a weight class. I should be in the lowest weight class and have the advantage of being a bigger guy."
Not only did he change up his diet, but he also changed up his training, recently joining Power MMA in Arizona, home to top light heavyweight contender Ryan Bader. Jury's main goal is still to contend for a UFC title, and he believes that his decisions, and changes will only benefit him:
"I feel like I'm adding just another advantage to my overall game," Jury said. "I feel like when you're fighting the top-five guys in the world and you're going for a world title — that's still my main goal, that hasn't changed, that's what I'm here for — if I get another advantage going into war on my side, that just increases my odds of winning. And that's what I want to do. I feel really good about the decision."
Will Jury get back to his winning ways, and establish himself in the featherweight division?