Mike Goldberg & Mauro Ranallo Sign With Bellator MMA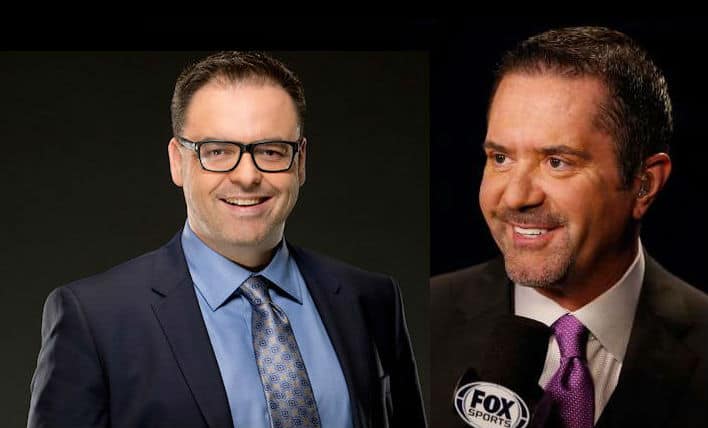 Bellator MMA has just made two big signings that will impact their commentary team for the better. The promotion announced on Tuesday that they have signed longstanding MMA commentators Mike Goldberg and Mauro Ranallo to multi-event broadcast agreements beginning with Bellator NYC: Sonnen vs. Silva and Bellator 180: Davis vs. Bader.
The announcement of the signings come less than 24 hours after Sean Grande revealed that he would give up his position ahead of the promotion's New York City pay-per-view later this month. The signings see Goldberg, who was forced out of the UFC after the purchase of the company by WME-IMG, return to Spike TV for the first time since 2011. Ranallo, who was the voice of Strikeforce on Showtime and also continues to cover boxing for the network, will reunite with Bellator President Scott Coker as they worked together through 2013. The pair will join a broadcast team that currently includes Jimmy Smith, Jenn Brown and Chael Sonnen.
"Mike Goldberg and Mauro Ranallo are two of the best in our business, and I couldn't be happier about them joining the Bellator family," said Scott Coker. "In addition to June 24, we look forward to working together to make future Spike broadcasts even more exciting for our fans as we add further depth to an already-exceptional broadcast team."

"The addition of highly-regarded announcers Mauro and Mike to our fantastic lineup of broadcasters, and our first-rate production led by Scott Fishman, further demonstrates our commitment MMA fans and expanding the global Bellator brand," added Spike SVP, Sports, and Specials Jon Slusser.
Goldberg is best known for his 20 plus years of play-by-play work in the UFC as he had been a staple of the promotion for years. He also called 900 games in the NHL, both nationally and with the Minnesota Wild, Vancouver Canucks and Detroit Red Wings. Since his departure from the UFC, Goldberg had kept quiet regarding his future in the sport but it's not a big surprise that he signed with Bellator as it was an expected move.
Throughout his career, Ranallo has spent time working with various sports outside of MMA, including boxing, professional wrestling, kickboxing and ice hockey. It was noted in the press release that he would continue his work with Showtime Boxing. Although he has not appeared on WWE television since earlier this year, he is still under contract until August 12th and the door for his return is still open if he is willing to come back.
Ranallo, who is known to be very active on social media, took to Twitter to comment on the news but kept his statement short. He wrote the following:
https://twitter.com/mauroranallo/status/874696736387678209
Bellator NYC will be headlined by Chael Sonnen and Wanderlei Silva, which has been a fight in the making for years. Not only does Bellator NYC feature a good main event, but it also has a stacked the main card. In the co-main event, MMA legend Fedor Emelianenko takes on former UFC heavyweight Matt Mitrione. Rounding out the main card is Michael Chandler defending his lightweight title as well as Douglas Lima defending his welterweight title against new free-agent acquisition Lorenz Larkin. Then we go to the undercard, which will air on Spike TV and feature a light heavyweight title fight between Phil Davis and Ryan Bader.