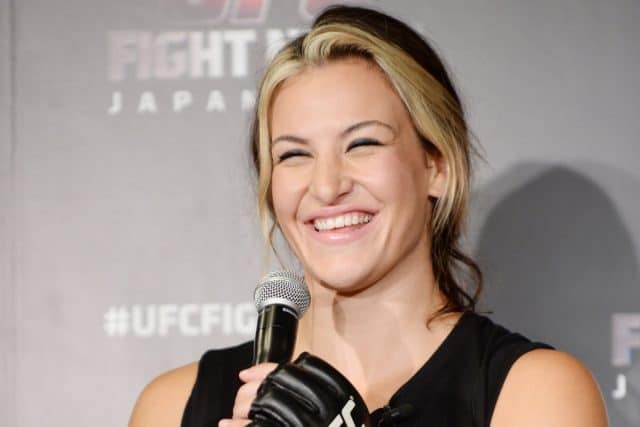 Former UFC women's bantamweight champ Miesha 'Cupcake' Tate is looking to rebound after her devastating title loss to Amanda Nunes in the main event of UFC 200 in July, where the Xtreme Couture team member ate a nasty barrage of strikes from the heavy-handed Nunes, to where she was subsequently choked out via rear-naked choke.
Tate will take on the No. 8-ranked Raquel Pennington in the opening contest of the main card on UFC 205 live on pay-per-view from Madison Square Garden, looking to get back on track en-route to reclaiming UFC gold. Tate recently took part in a media lunch to promote the event, and was asked her thoughts on the possibility of the UFC adding a 145-pound weight class to the women's divisions.
The conversation for a women's featherweight class begun to catch wind when the dominant force in women's mixed martial arts (MMA) known as Cris 'Cyborg' made her long-awaited UFC debut, where the Brazilian beast currently reigns as the 145-pound champion under the Invicta FC banner.
'Cyborg' currently struggles to make it down to the catchweight of 140 pounds at which she competes in her UFC bouts, and has been campaigning hard for the creation of a women's featherweight class in the UFC in order for her to compete at a healthier weight. Tate, however, sees no need for the addition of the weight class at the moment, opting for a 125-pound weight class to be created first instead:
"Personally, I think that 145 should either be in Invicta or Cyborg should make the catchweight of 140, or go to 135," Tate said (courtesy of MMA Fighting). "I think putting a 145 should come behind adding a 125. So, in order of preference, I think the 125 makes more sense before adding a 145. The depth at 145 is getting there, but I don't think there's enough 145ers to make it a really quality 145-pound division yet."

"I don't see myself probably coming down to 125 in the near future, unless it really is appealing financially," Tate said. "I'll probably just stay fat and happy at 135. … Show me the money. Show me the money and I might diet. I'll only eat half that steak that I just ate."
As for 'Cyborg's' issues making the cut to 135 pounds, Tate believes it is possible for the Invicta chance to potentially make the maximum weight limit of 136 with a proper diet, noting that Justino came in at 139 pounds for her bout with Leslie Smith in May:
"Maybe there's more that can be done to help her get her weight down and make that final cut," Tate said. "I know she made 139 the fight before her last one. Those three more pounds is a lot, but I think with a proper diet that maybe it could be possible. I don't know. I guess it really just depends."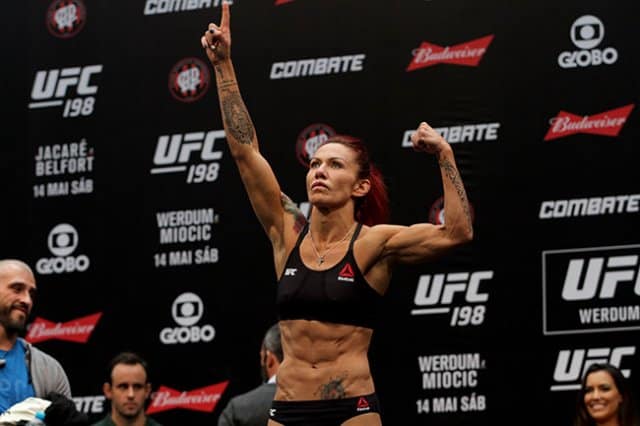 Tate believes there is no shortage of challengers that will fight 'Cyborg' at 140 pounds, herself included, and that she is just glad she isn't the one who has to make those decisions:
"I'm glad I don't have to answer that question," Tate said. "That is a tough spot. I think they've been doing the best that they can, having a catchweight at 140. There's plenty of women at 135 that will step up to the challenge and fight her."
'Cyborg' has yet to be booked for another bout inside the Octagon as of this writing, but as for Tate, she has quite the task in front of her in Pennington who is riding the momentum of a three-fight win streak, with aspirations to hold UFC gold of her own.
Tate and Pennington will meet on the main card of UFC 205 live on pay-per-view (PPV), from the Madison Square Garden arena in New York City on November 12, 2016.
If you enjoyed this story, please share it on social media!