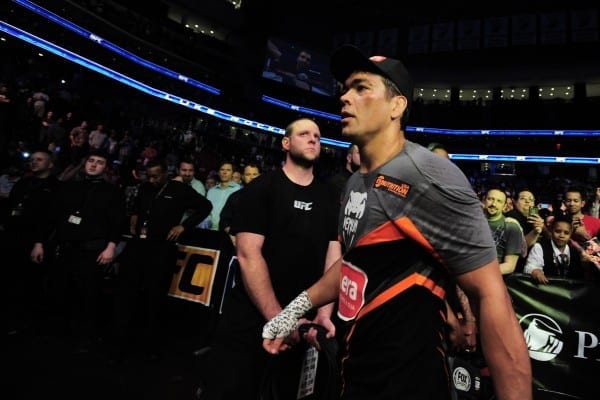 After two vicious stoppage losses in the span of just under 10 weeks, Lyoto Machida is ready to take a much-needed break from the Octagon.
News arrived from UFC Tonight's Ariel Helwani that 'The Dragon' suffered a broken nose in his UFC Fight Night 70 knockout loss to No. 3-ranked Yoel Romero, who took Machida down and bashed him with elbows for a third round finish. His manager Ed Soares confirmed that Machida indeed had surgery on the broken nose soon after the fight, remaining in Florida until the procedure was complete.
Machida now plans to use the coming months to re-evaluate his career, and has no set plans of when he'll return to fighting.
As for Romero, his next move sounds a bit like Machida's despite the fact that the 'Soldier of God' has fought his way into prime bargaining position and should be headed for a bout against Ronaldo 'Jacare' Souza (or better). According to Helwani, however, Romero's manager told him they aren't calling anyone out:
"We're not calling anyone out, we're not talking about anyone, we're not even talking about when we're returning. Yoel is almost superstitious about these things."
Helwani also spoke to Jacare's management, who said that they are looking to return sometime around late September when Souza has healed up from the knee surgery he had following his UFC on FOX 15 submission win over Chris Camozzi. When they do, they want a bout with champion Chris Weidman, No. 1 contender Luke Rockhold, or Romero.
If those seemingly obvious bookings aren't available, however, Jacare wants a big name fight at 205. Apparently he's not looking to wait around after he's medically cleared to return to action.
Finally, Helwani clarified that Rockhold is indeed getting a bit antsy at the promotion's hesitation to get him booked into his promised title fight against Weidman, a feeling perhaps expedited by the fact that Weidman recently spoke up with a rumor that he was fighting Jacare for the next title shot.
Rockhold's AKA teammate Daniel Cormier chimed in on the show to clarify that Rockhold would indeed fight Jacare again to get the title shot, because he feels that he would emerge victorious like he did in their first meeting for the Strikeforce middleweight title in September of 2011, but would obviously rather fight Weidman for the belt.
All in all, it's been a busy few months for the middleweight division, which is arguably the most action-packed landscape in MMA right now.
Photo Credit: Joe Camporeale for USA TODAY Sports