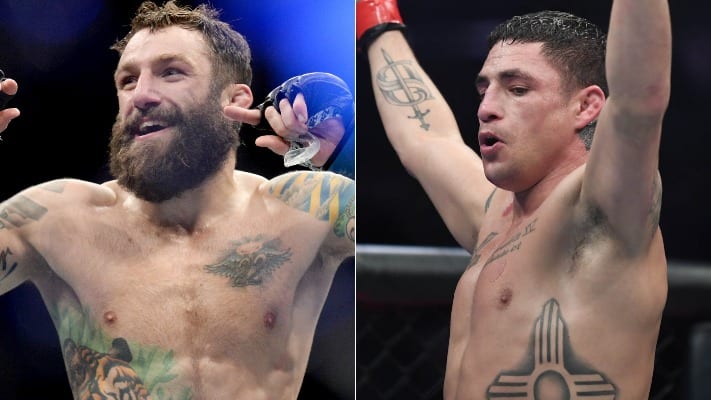 Michael Chiesa has some lofty goals for his UFC 239 meeting against fellow former "Ultimate Fighter" winner Diego Sanchez.
Speaking to BJPenn.com recently, "Maverick" laid out his plans to make the future UFC Hall Of Famer tap out in Las Vegas:
"Anybody can be submitted on any given night. I've submitted guys that have never been submitted like Beneil Dariush," Chiesa said. "Without giving away too much, I know I can get a submission against anyone in the world including Diego.
"I have a few things and tendencies that when the opportunity presents itself I'll submit him. You will be surprised what I have up my sleeve for this fight."
Chiesa is riding high off his second-round submission victory over Carlos Condit. The bout was Chiesa's first in the 170-pound weight class. Now, Chiesa jumps from one legend to another in Sanchez. Sanchez, the winner of the first-ever "Ultimate Fighter" season, is on a two-fight winning streak at the moment.
Both men are proven finishers inside the Octagon, so Chiesa expects fans to be very pleased when they throw down Saturday night:
"One thing Diego and I have in common is we are fighters. We aren't trying to point-fight so the fans are in for a really exciting fight, I feel like there is a blueprint to beat Diego," Chiesa said.
"I'll fight Diego's fight because that is my fight, too. Just put on a good fight for the fans. He is getting inducted into the Hall of Fame that weekend, but I'm going to spoil it."

Do you think Chiesa will submit Sanchez at UFC 239?