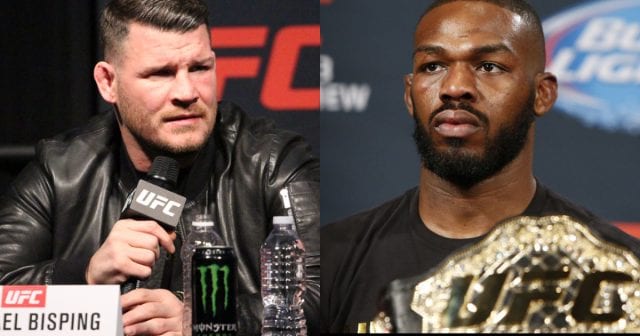 Michael Bisping questions how Jon Jones will look when he makes his return to the Octagon.
The former UFC light heavyweight champion will finally return later this year. Jones is scheduled to fight Alexander Gustafsson for a second time. The vacant 205-pound title is on the line. This bout will go down at UFC 232 and serve as the featured bout.
The First Fight
Jones successfully retained his light heavyweight title over Gustafsson back at UFC 165 in 2013 by decision. It was a close, hard-fought war that saw both men have their moments. It is considered one of the best fights in UFC history due to its back-and-forth action.
Bisping talked about the fight on his "Believe You Me" podcast and wondered if Jones will be able to get back to his peak performance with such a layoff that he has sustained.
"It's gonna be interesting to see what Jones comes back," Bisping said (H/T to MMANews). "A lot of guys, they need those demons. They need the fire, they need something that makes them an outlier that separates them from the pack. A lot of people, myself included had that."
Same Fighter?
The former UFC middleweight champ continued by stating that Jones is a wild man, which is something a fighter needs. It may help Jones in a sense, yet he has to wonder if he's still the same fighter because of his inconsistent bouts.
"You need that wild side and if you're just a regular Joe you're not gonna … I'm not saying you have to be a bit reckless or have a little bit of semi-screw loose here and there, but it f*cking helps when you step into an Octagon and fight somebody. His thing is, he's a wild man."
The Event
UFC 232 is set to take place on Saturday, December 29, 2018.
It all goes down at the T-Mobile Arena in Las Vegas, Nevada. The main card will air on pay-per-view at 10 p.m. ET while the preliminary card will air on FOX Sports 1 at 8 p.m. ET and the promotion's streaming service, UFC Fight Pass.
If you enjoyed this story, please share it on social media!