Anderson Silva will return to the UFC against veteran Michael 'The Count' Bisping at tomorrow's (Sat., February 27, 2016) UFC Fight Night 84 from the O2 Arena in London, England, and true to form, the brash British trash talker has driven the smack talk with his endless criticism of 'The Spider's' recent failed drug tests for two anabolic steroids.
All of the tension was ramped up at a media open workout session in Torrance, California earlier this month, where Bisping made fun of Silva's famously blasted defense that his steroid failures had come due to a tainted sexual performance in an unmarked blue vial. The normally calm Brazilian quickly quipped that there would be no Viagra this time, only 'my punch in (Bisping's) face.'
It's apparently worn on the longtime former middleweight champion, as Silva could be seen snubbing Bisping without a handshake at yesterday's face-off from the London Tower Bridge. The discord continued on in today's weigh-ins, where the two foes engaged in a heated staredown that required several men to step between them: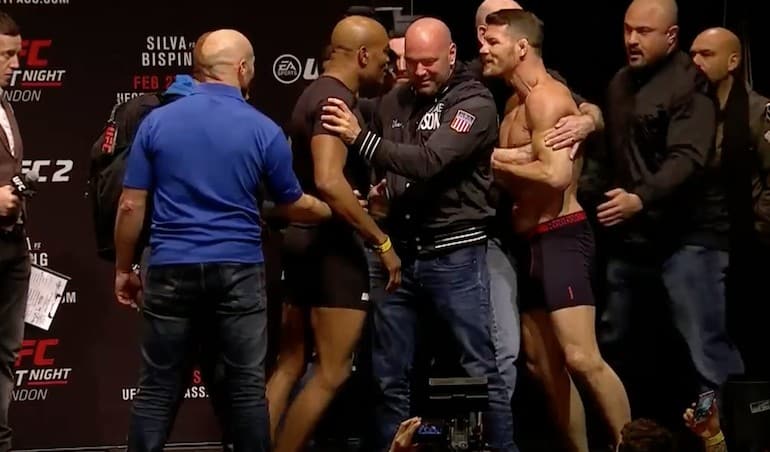 'The Count' was extra riled up at that point, even going as far as to put Silva on blast by calling him a 'fraud':
"This man is a cheat," Bisping said. "This man is a fraud. And I will make you pay for your mistakes tomorrow night my friend. All the needles in your ass, all the steroids will not help you, you p*ssy."
'The Spider' seemed calm in response, instead simply answering a question about going for another run at the belt if he beats Bisping:
"I think so," Silva said. "I've been working hard for this one. I think this fight Saturday night is good for me, good for Bisping. And let's go. It's the show."
It would appear that the gloves are off for this one, as both fighters appear motivated and ready to go to war. Who are you picking to emerge victorious in London tomorrow?