The MMA and boxing worlds woke up to a deluge of Conor McGregor vs. Floyd Mayweather news this morning, with most of it centering on the controversial "knockdown" video of McGregor's former sparring partner Paulie Malignaggi that was released by Dana White last night.
That all-out drama has seemed to have taken away a significant part of the hype for the actual fight, which still has tickets available from the T-Mobile Arena. But there have been some storylines about the real boxing action scheduled to take place in the ring on August 26. A big part of that was this week's news that the Nevada State Athletic Commission (NSAC) was actually considering eight-ounce gloves for the fight after originally being set to use 10-ounce gloves.
If that indeed turns out to be the reality, McGregor isn't giving "Money" a chance to last long. He offered his opinion on the change yesterday at his media workout from Las Vegas (transcribed by MMA Mania), noting that thinks it would be an early night for Mayweather were the glove size to get smaller:
"If we're eight ounces I'm struggling to give him two rounds. That's the gods' honest truth. The only reason I maybe give him two rounds is because in this game the referee stops me from pounding his head into the canvas. And he has 10 seconds to recover. That's the only reason he might get to the second round."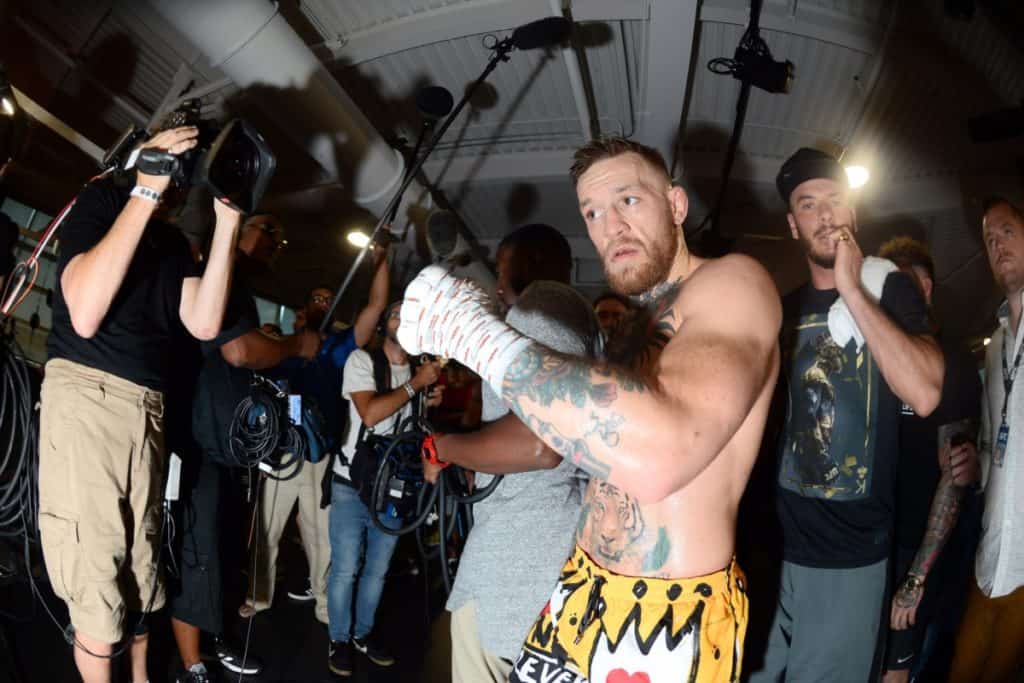 "The Notorious" then expanded upon why he's the tougher man compared to Mayweather, noting that his experience in all aspects of martial arts will give him the advantage even if they are meeting in the boxing great's arena:
"I move different. I strike different," McGregor said. "I'm from a different game. I'm from a more ruthless game. You can sugarcoat it any way you want. We get smacked with elbows and we don't cry. We just have to eat it. We get a smack of a shin bone, a knee, a foot, a heel, and you've got to just handle it yourself. So that's the game I come from."
McGregor has a point there, but facing one of boxing's all-time greats in a competition of his glaring strong suit won't allow 'The Notorious' to use the brutal all-around aspects of fighting that he mentioned at the media workout.
Most feel that if McGregor has any sort of a chance against Mayweather, he's going to have to land a huge power shot early in the fight, and reducing the glove size to a weight closer to the four-ounce gloves he's accustomed to in the UFC would certainly give him a leg up on "Money," who would in turn gain an even bigger advantage in speed.

Regardless of the particulars, however, it's still considered a long shot that McGregor can even hang with Mayweather, let alone knock him out. Not surprisingly, the Irishman and predicting he'll not only be able to compete with "Money," but will knock him out as well. Will a smaller glove size help him accomplish that potentially legendary goal?