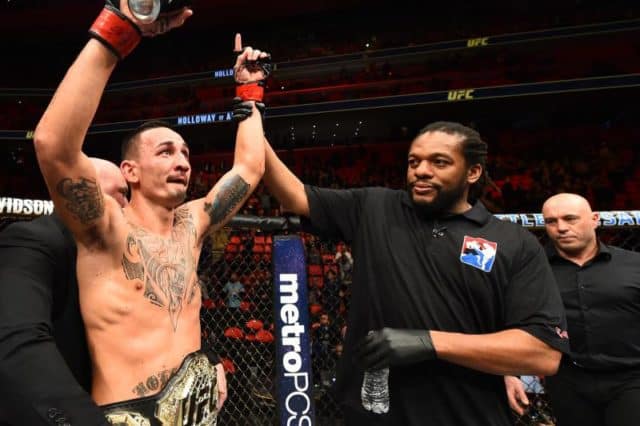 Max Holloway believes that his title defense against Brian Ortega is also a super fight.
Holloway will defend his featherweight title against the rising contender at the upcoming UFC 226 pay-per-view event.
The Hawaiian was scheduled to make his next title defense against former UFC lightweight champion Frankie Edgar at UFC 222 but had to put out due to injury. The bout was originally scheduled for the UFC 218 pay-per-view event. However, Edgar was forced to withdraw from the fight after suffering a broken orbital bone in training.
This led to Holloway fighting Jose Aldo in a rematch, which saw Holloway successfully retain his title via third-round TKO.
Holloway recent stated in an interview to promote this upcoming fight, which will serve as the co-main event of Saturday night's anticipated UFC 226 pay-per-view from Las Vegas, that he wants to leave a legacy in the sport of MMA and wants to be remembered as one of the greatest all-time. Thus, that is the reason that this fight is so important to him.
"It's a legacy thing and when it's all said and done, I want to leave a legacy in whatever way," Holloway said in a conversation with Yahoo! Sports. "If not, if it's helping the division, if it's fighting big names, I just want to be remembered as one of the greatest all-time to ever do this in the sport. That's just what I want to do. I sacrifice a lot of time away from my family, away from my son and I just want to make them proud, make my family proud and my fans crowd and, you know, leave a legacy."

"You want to be a part of the big card," Holloway said. "You want to be part of history. We got a match in the main event going for history. One of them trying to be the longest reigning defending heavyweight champion and one of them trying to hold two belts at the same time," he added.

"And then, you have a big super fight. I'm not talking about the main event. I'm talking about the co-main event, too. It means a lot to me to be able to have this spot on this card. This is like the Super Bowl of the UFC, a blockbuster, a big blockbuster hit that comes out in the summer, this is it," he concluded.
UFC 226 is set to take place on Saturday, July 7, 2018, at the T-Mobile Arena in Las Vegas, Nevada.