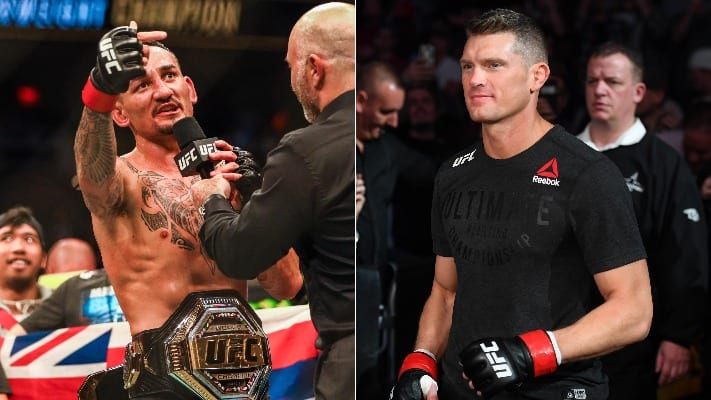 Max Holloway is probably one of the nicest mixed martial artists you'll ever meet. The same goes for multi-time UFC welterweight title challenger Stephen "Wonderboy" Thompson.
Holloway, the featherweight champion of the world, recently responded to a report online suggesting Thompson would like to fight for the "Nicest Guy In MMA" belt when he takes on Vicente Luque in November. "Blessed" responded jokingly challenging Thompson to a fight for the NMF Championship, which led to a fun back-and-forth between the pair.
Holloway is currently booked up to make his next defense of his 145-pound title against Alexander Volkanovski. The Hawaiian champ comes off of a successful title defense against Frankie Edgar, and will now take on a dominant challenger in Volkanovski, who is on a solid run after besting ex-featherweight kingpin Jose Aldo in Brazil.
The Australian is an extremely well-rounded opponent, and will now get to test himself against Holloway, who many consider to be the best featherweight of all time after his two back-to-back TKO victories over Aldo. All the action goes down on the UFC 245 pay-per-view (PPV) from Las Vegas, Nevada on December 14.
What do you think about Holloway wanting to fight Thompson for the Nicest Mother F*cker Championship?