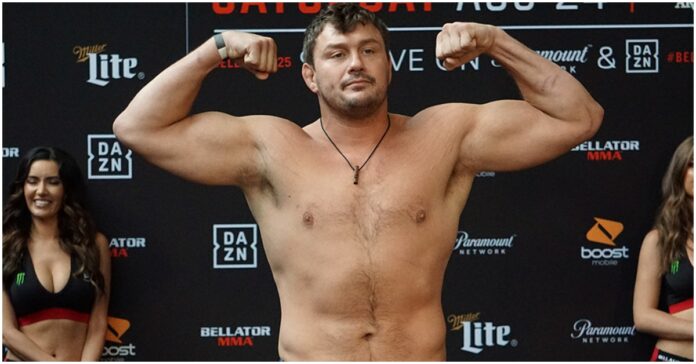 MMA veteran Matt Mitrione recently announced that he feels he won't return to MMA ahead of his Triad Combat debut on Triller.
The former UFC heavyweight took to The MMA Hour on Wednesday to announce he's closing the MMA chapter of his life.
This comes ahead of his mixed rules fight against professional boxer Alexander Flores on Trillers Triad Combat card. Mitrione had this to say to Ariel Helwani, "I would venture to say I'm done with MMA. Probably, who knows, I might really love [Triad Combat]."
The mixed rules fight being set up by Triller will allow only punches but allow non-traditional boxing techniques such as spinning backfists and superman's punches. The competitors will also have the ability to clinch and strike from the clinch. This is all while being fought out in a triangular ring with two-minute rounds in order to 'level the playing field' between boxers and MMA fighters.
Mitrione is currently 0-5-0-1(NC) in his last six bouts and the former NFL defensive lineman hasn't won a bout since early 2018 but doesn't feel that tells the full story. Mitrione said "Some people might call me ignorant for saying this, but I don't feel that I have been outperformed in standup. My last three TKO [losses], [Sergei] Kharitonov — the one headbutt and the other headbutt — Tyrell [Fortune] the second one, and those are literally the first contacts of the fight.
"So I feel like if I'm gonna retire and be done, then I want to be outperformed. I want to be have somebody that came in there and smoked me and whooped my ass at what I'm strong at."
"Then that tells me, 'OK, you're done. It's past your time.' But I think in having situations, fights that in my perspective should be overturned from a loss to a no contest, because the first impact of the fights is headbutts and those are illegal. (Transcribed by MMAFighting)
The American would go on to explain that situations led to his decision to walk away. Mitrione said "I have no choice but to leave the sport of MMA, because I don't trust the commissioner or the referee or whoever the governing body is going to be to make the right decision. And I can't take unnecessary beatings because a fight should have been stopped."
Matt Mitrione Seems Unpleased With Sections Of MMA
MMA in general seems to have left a sour taste in Mitrione's mouth, he said "I enjoyed it, but I was never a fan of how fickle the fan base was at times. There are some that are really educated and I think there are the masses that are just so flippantly ignorant, they don't care to learn nuance. I think that that's something that always kind of bothered me about it."
Mitrione would also go on to share his displeasure of Bellator, stating "I don't have many good feelings towards [Bellator].
"I think the heavyweight tournament was a joke. It wasn't a heavyweight tournament; it was a super fight tournament. Our biggest eight names that we have, that's what I thought it was. That's why I told them I think that's stupid; I don't want to do it.
"I just knocked out Fedor in 71 seconds in Madison Square Garden, I'm 3-0 with three knockouts. Now you want me to take three steps backward and fight arguably one of the most durable heavyweights in the game, Roy Nelson, to be first?"
Although his MMA career may not have panned out the exact way he would have liked, the 43-year old seems to be in a good place in his life. Mitrione plans to attend the EMT program at Purdue University to eventually become a firefighter. Mitrione also had this to say about fighting "That's all I wanted, a one-fight deal. Financially, I'm fine financially. I'm not really tripping about it. I'm in the process of actually getting a career, but I might still keep fighting. I'm still training, but I look forward to whatever life brings me."
What do you think? How would you remember Matt Mitrione's MMA career?