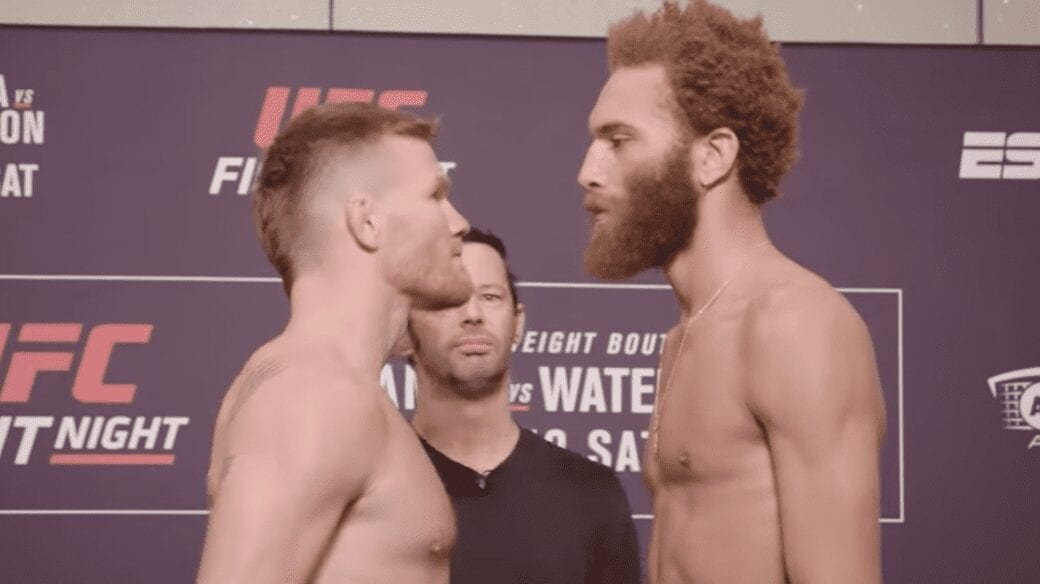 Next up on the UFC Tampa main card is a lightweight contest between Matt Frevola and Luis Pena.
Round 1: Frevola starts things off with an aggressive flurry of leg kicks and punches. However, he is struggling to land anything significant on the taller Pena. While advancing, Frevola scores a huge takedown but Pena is able to get up instantly. Frevola lands another huge takedown and manages to keep Pena down. However, Pena attempts to get creative with a submission using his feet. Both fighters constantly reverse before the fight gets back up again. They enter a clinch position with Frevola against the fence. Pena takes him down and lands strikes before Frevola gets up. Frevola looks gassed as Pena unleashes a flurry of strikes. He makes it to the end of the first round.
Round 2: Pena is landing more now as blood trickles down Frevola's face. Pena lands a flying knee which rocks Frevola who somehow manages to stay standing. He later attempts a takedown but Pena attempts to reverse with a kimura but Frevola escapes. The fight is later temporarily halted as Frevola picks up his mouth piece. Frevola lands a superman punch but Pena is still yet to be hurt. The fight goes to the ground again as Pena attempts a creative triangle armbar submission but later gets full guard. Pena gets up but is taken down by Frevola again. Pena attempts a guillotine before getitng full mount but it is too late as the second round is over.
Round 3: The third round is less frenetic as the two fighters are more patient. Frevola advances and lands a huge right but Pena marches forward. He attempts another flying knee but it doesn't land before getting dropped by Frevola. Frevla goes for another takedown, lands strikes and attempts another takedown before they get separated. Frevola has the edge in significant strikes this round. He attempts another takedown in the final few seconds but the fight comes to an end.
Official result: Matt Frevola defeats Luis Pena via split decision (28-29, 29-28, 29-28)