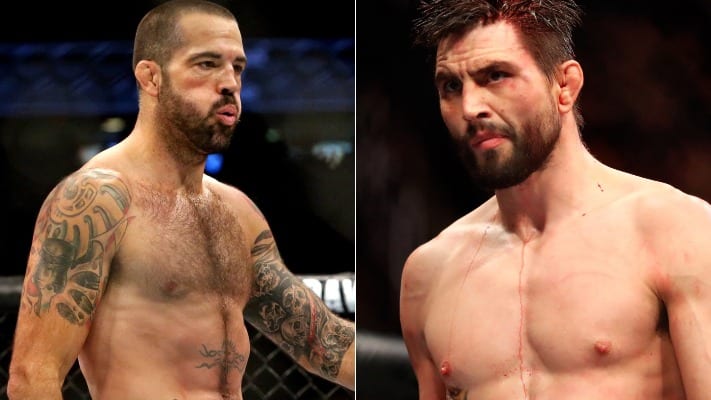 Matt Brown and Carlos Condit have been booked to fight each other multiple times, but unfortunately, the matchup never came to fruition. The two were initially set to clash at UFC on FOX 9, and then at UFC on FOX 29, both bookings eventually falling through.
Now, Brown is set to end a two-year layoff and return to the Octagon against Ben Saunders at UFC 245 this December. Then, Condit will fight Mickey Gall at UFC on ESPN 7 in Washington. Speaking to MMA Fighting, Brown discussed why the UFC didn't match up he and Condit one more time to try and make the scrap finally happen.
"I have no idea," Brown said. "You'd know better than me. I actually don't know. All I did was reply yes to an email from (UFC matchmaker) Sean Shelby, and I didn't even look at who the opponent was. I saw, 'Do you want to fight?' That was in the subject line, and I just said yes."
Of course, the matchup isn't impossible, and can still happen at some point down the line. Brown says things will have to be reassessed after their respective fights at the end of the year, and perhaps the matchup can finally go down in 2020.
"Of course (I'm interested)," Brown said. "I think me and Carlos we've been right here the whole time, and I think we're in a little bit of different spots now. It certainly would have been better a few years ago. It seems like I get hurt every time we're supposed to fight, but we'll kind of see where he's at after he fights Mickey.
"We'll see where Mickey's at, we'll see where Carlos is at, we'll see where I'm at and everybody. We're all in our own piece of the division right now. There's a whole other part of the division that we need to be focused on. The fights between all of us are fun fights that are kind of building towards something bigger. We'll have a lot figured out around the December time frame.
"Hopefully everybody gets some money and all of our kids can have a good Christmas and have a Happy New Year, get back to training and bust each other's noses up next year."

What do you think about a potential fight between Brown and Condit?