Luke Rockhold: I Want Biggest Fight & That Is Chris Or Vitor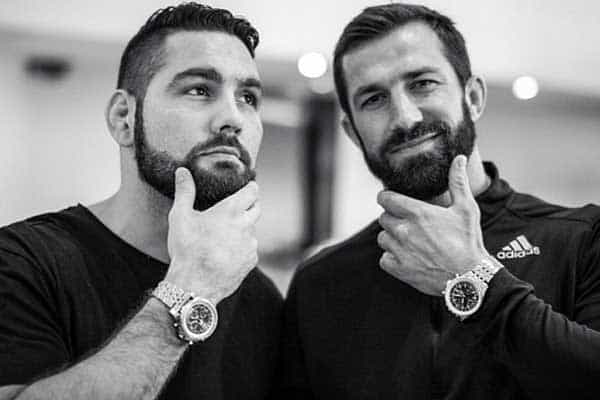 In a gritty title-clinching performance against former champion Chris Weidman in the co-main event of last weekend's (Sat., December 12, 2015) UFC 194 from the MGM Grand Garden Arena in Las Vegas, Nevada, Luke Rockhold's bloody stoppage win while dealing with a staph infection is being overlooked by Conor McGregor's 13-second knockout of Jose Aldo in the main event.
But that doesn't mean that there aren't some awesome fights available to the new champion in the stacked middleweight landscape.
Common sense might dictate that Rockhold fight the streaking Yoel Romero next, who picked up his seventh straight win with a somewhat lackluster and controversial split decision victory over Ronaldo 'Jacare' Souza at UFC 194, but during his first post-fight interview with Stephie Haynes of Bloody Elbow, Rockhold doesn't consider that to be the case. American Kickboxing Academy (AKA)'s newest champ simply wants the biggest fights, and he envisions a rematch with Vitor Belfort, who infamously knocked him out with a spinning wheel kick in his UFC debut, as the best choice as of now. Seeking revenge since that day, Rockhold believes he can redeem himself if they battle a second time:
"I want a fight that makes sense for me. I want a big fight for the fans to enjoy, and obviously, I want to get paid and make big numbers…I want the right fight. I want the biggest fights I can get. Vitor is a great fight for me right now. I wanna go out there and get out all my revenge on this guy, of course. I believe he got me with an unfair advantage, and I know I can rewrite that tale."
Overall, Rockhold said he wasn't impressed with Romero's performance enough to believe that match to be one of the big fights he's looking for, as he foresees a rematch Belfort or Weidman as the best options:
"Yoel Romero is a tough dude, but he didn't look that great against Jacare, and Jacare didn't look that great, either. I wasn't very impressed with their performances. He's a tough guy, so we'll have to see what the bosses like. Right now, it's a weird time. Does Chris Weidman deserve the rematch first? I don't know. That's all up to them. Personally, I want the biggest fight, and I think that is either Chris or Vitor. Has Anderson Silva and Vitor Belfort been booked yet? That wouldn't be a bad fight, either."
With Belfort rumored to be facing a returning Silva in March, the timing could potentially match up for Rockhold to rematch Weidman sometime in the spring to possibly set up a massive match-up with the winner of that fight facing the winner of Silva vs. Belfort. Romero would be left out in the cold if that scenario came true, however, so there's a chance he still gets the shot even if his win over Souza was an ultra-narrow one.
No matter what actually happens, the future is looking bright for the confident middleweight ruler from California. Which elite middleweight should he meet next?