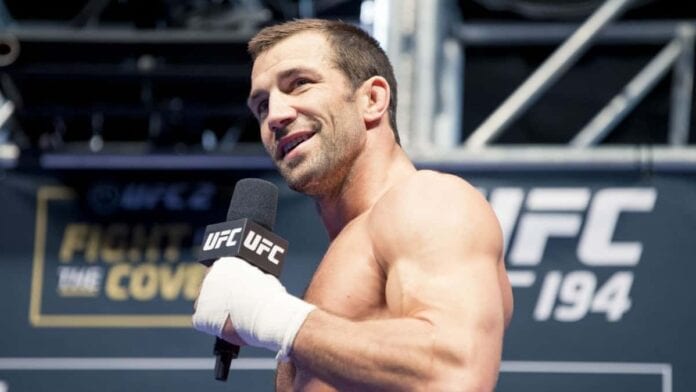 Former UFC middleweight champion Luke Rockhold was scheduled to rematch ex-Strikeforce titleholder Ronaldo "Jacare" Souza in the main event of tonight's November 26, 2016) UFC Fight Night 101 from Melbourne, Australia, but he was forced to withdraw from the bout with a knee injury. Instead, rising middleweight contenders Derek Brunson and Robert Whittaker will do battle in the evening's main event.
While Rockhold obviously wishes it was him fighting tonight, he did recently speak on the replacement bout with Bloody Elbow, saying that it's an 'interesting' scrap:
"It's an interesting fight," he said. "Both guys are kind of climbing their way up, and one of them will be putting themselves up into that next range of contenders, that next level. They'll be in the elite class. Whittaker seems to have a little sharper, a little better technique on the feet. Brunson is just such an athletic guy. He's a pretty good striker and a good wrestler."
While Rockhold was hesitant to make a prediction, he did say that both fighters have 'holes' in their games, although he will be paying close attention to who comes out on top:
"They're both raw, though, and they both have holes in their game, but I think they match up well together, stylistically. It's going to be a fun fight with plenty of back and forth action. I'm very curious to see who bumps up, to see who wants to come get it. I'd be hard pressed to pick a winner here, to be honest."
Who are you picking tonight?