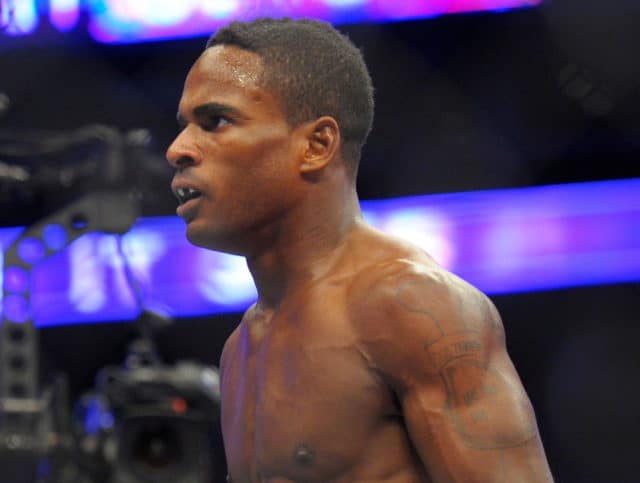 Bellator star Lorenz Larkin was not pleased to see one finish at an LFA event over the weekend.
In case you missed it, heavyweight fighter Drew Chatman finished Irvins Ayala but then thought it was a great idea to do a front-flip on Ayala's unconscious body after the fight was declared over at Friday's LFA 36 event that aired on AXS TV at Morongo Casino Resort in Cabazon, Calif.
This led to the commission declaring the celebration a DQ and the ruling was overturned.
This moment caught the attention of a lot of people including Larkin. Keep in mind that Chatman basically lucked into a win at this event due to the fact that it appears by looking at the footage that Ayala accidentally knocked himself out to end the fight.
Larkin took to his official Instagram account to rip Chatman and his gym, which is owned by former UFC title challenger Josh Koscheck. He wrote the following in the caption:
"What a piece of shit you are drew chatman!!!! And @joshkoscheck you should be f-cking embarrassed as a coach and gym owner."
He also went on a rant in the video posted on the social media platform, which you can see here (transcript courtesy of MMAJunkie):
"You f-cking piece of sh-t. I've never, ever in my f-cking life see any type of classless sh-t like that, and I've been in the game for a while. I hope – I know (LFA President) Ed Soares is one hell of a f-cking promoter, and he will handle it to the fullest f-cking potential he can.

But I hope no other f-cking promotions – no matter how you f-cking do in your career – pick your sorry ass up. And I'm so glad you're not on the higher f-cking levels so I could get my hands on you, you piece of f-cking sh-t."
If you enjoyed this story, please share it on social media!