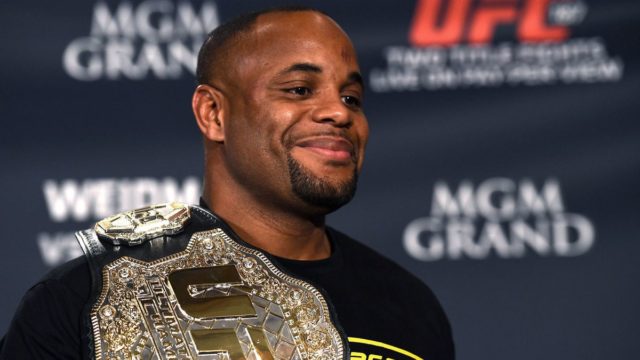 The UFC's light heavyweight division has a strong sense of unrest at the moment.
Current division champ Daniel Cormier now holds the responsibilities of a double champion. "DC" is the UFC light heavyweight and heavyweight champion after he knocked out Stipe Miocic at UFC 226 in July.
After the fight, Cormier was confronted by former UFC heavyweight champion Brock Lesnar. Cormier vs. Lesnar will be the next heavyweight title fight that will take place according to Dana White.
Cormier has remained adamant that he has two more fights left. He plans to retire from mixed martial arts (MMA) competition next year. As a result, the title picture is uneasy to many top contenders.
It's not guaranteed that Cormier will return to defend his title anytime soon. With top contenders like Anthony Smith, Alexander Gustafsson and Ilir Latifi waiting in the wings – the division can't help but stall.
Latifi spoke with ESPN on the matter recently. Cormier's days of fighting at 205 pounds are done in his opinion. Latifi doesn't think Cormier should be light heavyweight champ if he is looking for "comfortable" money fights from here on out:
"Honestly, I don't think he's going to come down any more. I think he's playing around, seeing what money fights he can make. I understand that in a way, but something needs to happen at 205. There are guys who want that shot at a title or interim title.

"He says a lot of things. He's said he'll fight me. I told him to be a man of his word and do it. If he's looking for more comfortable fights, he shouldn't be champ."
Lesnar must deliver several months worth of clean United States Anti-Doping Agency (USADA) testing before he can fight Cormier. The WWE star will return nonetheless while many believe this could prove to be difficult.
In the meantime, Cormier could certainly get a 205-pound title defense in while he's waiting. Whether or not he will due to his timeframe, however, remains to be seen. Light heavyweight king Jon Jones' could be coming back soon to mix things up, he says:
"I heard Jon Jones is coming back this year. Rumors, you know?" Latifi said. "You see what he's posting on social media, you get an indication he's getting back. Let's see. I don't think Cormier fights Jon Jones again. I see Alex [Gustafsson] fighting Jon, but if not, I would love to fight Jon, too."
There isn't any scenario where "DC" returns to make a title defense due to his retirement according to Latifi. Latifi believes the former Olympian should move if that is indeed the case:
"Either he comes down and defends against me this year, or they have to make an interim title or force him to step down from the title. It's only fair. I think what he's done for the sport is great, and he's a great champion, but it's a new time now."
If you enjoyed this story, please share it on social media!