Leon Edwards vs. Donald Cerrone Full Fight Video Highlights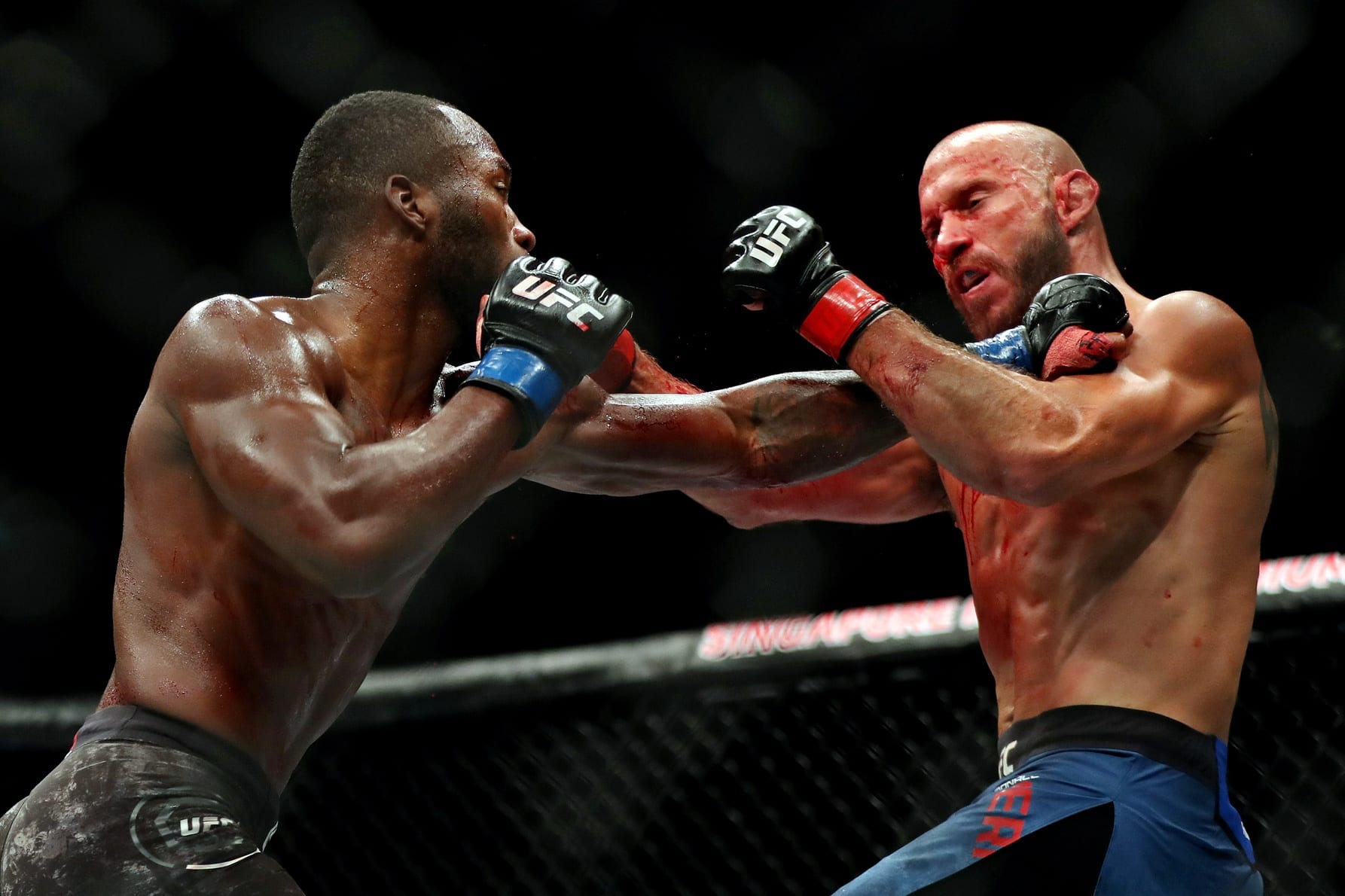 Leon Edwards and Donald Cerrone fought a close, hard-fought battle in the main event of today's (Sat., June 23, 2018) UFC Fight Night 132 from the Singapore Indoor Stadium in Kallang, Singapore.
In a match-up of two ranked welterweights at opposite spectrums of their respective careers, Edwards was looking to use "Cowboy" as a jumping point to propel himself into the top 10 of one of MMA's toughest divisions, and he fought like it early, coming out strong with some big body kicks before cutting Cerrone open with a knee.
He kept up his impressive striking in the second round as well, landing a big elbow off a break and following with another knee and body kick:
SHOWING UP!@Leon_EdwardsMMA is showing his control in round two. #UFCSingapore pic.twitter.com/wLpoNi2NKq

— UFC (@ufc) June 23, 2018
Towards the end of the frame, there was a bit of controversy when Edwards ate a big head kick from Cerrone but then stepped back to complain that "Cowboy" had grabbed his glove, something that appeared true upon further review:
WOAH! @CowboyCerrone #UFCSingapore pic.twitter.com/PbXwSBwExC

— UFC (@ufc) June 23, 2018
But although Edwards controlled much of the first two rounds on a bloodied Cerrone, the veteran came storming back in the mid to later rounds as he's been known to do, arguably securing rounds three and four to tie the scorecards at two rounds for each man.
A big reason why he was able to do that was Edwards' insistence on waiting back and looking for a perfect shot while Cerrone made the fight uglier with clinch work and more volume. It seemed to be anyone's fight heading into the fifth round, but you never know what judges are thinking.
So while Edwards did land crisper strikes, Cerrone secured a takedown in the final frame and attempted to goad Edwards into a brawl in the final seconds of the fight:
Cowboy being Cowboy. #UFCSingapore pic.twitter.com/dyK7t5cltL

— UFC (@ufc) June 23, 2018
The young British contender would not oblige, however, and it seemed he may have let the biggest fight of his career slip through his grasp. Fortunately for him, the judges awarded his higher volume of head strikes and his obvious edge in damage done to award him a huge win, even if it may not have been the statement he promised to make leading up to the bout:
What a war.@Leon_EdwardsMMA earns the victory. #UFCSingapore pic.twitter.com/ZzzauwHm0B

— UFC (@ufc) June 23, 2018