Leon Edwards Decisions Donald Cerrone In Close Encounter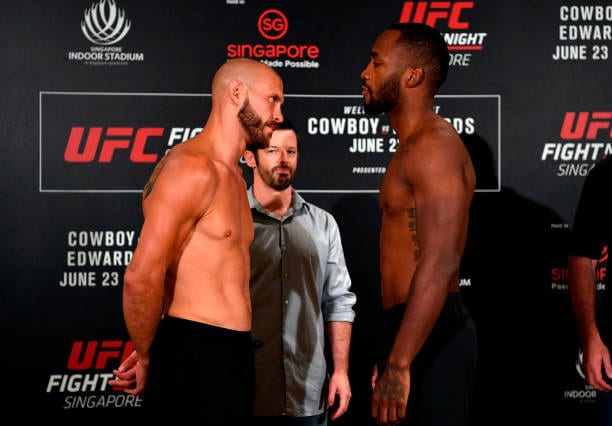 Leon Edwards nabbed a huge win over Donald Cerrone.
The stage was set for the main event of UFC Singapore. Welterweights Cerrone and Edwards did battle inside Singapore Indoor Stadium in Kallang, Singapore. The bout took place earlier today (June 23).
Edwards got things going with a body kick. Cerrone connected with an outside leg kick. Edwards grabbed a hold of "Cowboy" near the fence. A knee was there for Edwards. Blood trickled above the eyebrow of Cerrone. "Cowboy" shot in and landed a knee to the body. Edwards responded with his own knees to the body. He landed a head kick. It was clear in the opening frame that Edwards had a speed advantage.
Edwards fired off a body kick in the second round. Elbows landed for "Rocky." Edwards moved forward, but Cerrone shot in and connected with a knee to the body. A hard elbow off the break was there for Edwards. Cerrone landed an accidental kick to the groin and time was called. A head kick was there for Cerrone near the end of the round. Edwards complained about Cerrone grabbing his glove.
Cerrone landed a flurry early in the third frame. Edwards connected with a right hand. An uppercut landed flush for "Cowboy." Cerrone shot in and landed a punch on the break. A knee to the body found the mark for Cerrone. A counter punch was there for Edwards. The round ended shortly after.
The two traded kicks and Cerrone slipped in the fourth round.
"Cowboy" pressed "Rocky" against the fence. They soon broke free. A high kick was there for Edwards. A head to the head landed for Edwards. Cerrone scored a takedown. Edwards quickly got back up and landed an elbow on the break. He connected with a leg kick. Cerrone caught a high kick and dumped Edwards to the mat briefly. Round four soon came to a close.
Edwards landed a leg kick early in the final round. "Rocky" connected with a right hand. Cerrone fired off a leg kick, but Edwards answered. Edwards caught a kick. Cerrone blocked a high kick. "Cowboy" grabbed a hold of his opponent. He scored the takedown with about one minute and 30 seconds left in the fight. He landed a punch, but Edwards got back up. An outside leg kick landed for Cerrone. The two traded shots near the end of the fight.
Final Result: Leon Edwards def. Donald Cerrone via unanimous decision (48-47, 48-47, 48-47)