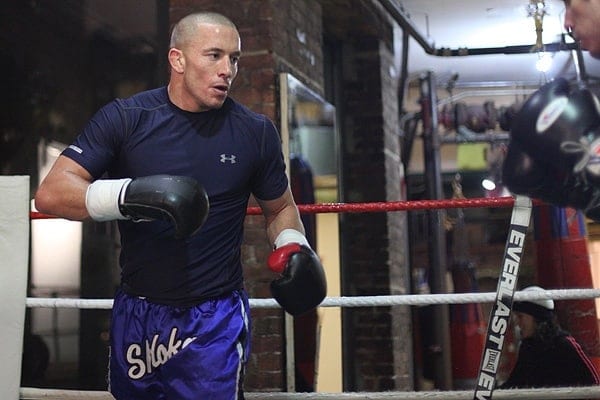 Legendary boxing trainer Freddie Roach will reportedly be in Georges St-Pierre's corner for his upcoming comeback fight against middleweight champion Michael Bisping at UFC 217.
According to Roach, the arrangements have already been made for him to train the former welterweight champ in Canada as well as corner him during fight night on November 4.
"That's a done deal," Roach told The MMA Hour. "We've made a deal, I'm going to fly up to Montreal at least three days every week until the fight, and I'll work with him every day I'm up there."
Roach remains in demand when it comes to combat sports training, and has worked with GSP in the past prior to the former champ's early retirement back in 2013.
The legendary trainer was instrumental in brokering GSP's UFC return, which will now take place at Madison Square Garden at UFC 217. Roach facilitated the deal between GSP and the UFC's new owners, who had taken over operations since his retirement.
However, Roach has other commitments leading into "Rush's" comeback fight, as he also will be cornering and training Miguel Cotto for his August 26 bout, but will dedicate his time with the one-time welterweight kingpin as soon as Cotto's boxing match is in the books.
"After Miguel's fight, we're going to make the arrangements, so I'm going to be up there (in Montreal) maybe the whole month of October almost," Roach said.
So St-Pierre has one of boxing's most famed trainers back in his corner heading into his controversial middleweight title fight against Bisping in a division he's never competed in before after almost four years away from the octagon come fight time.
Will it give him a leg up on the talented striking of The Count," or has the fight game passed 'Rush' by?
If you enjoyed this story, please share it on social media!