Kimbo Slice Returns To MMA, Signs With Bellator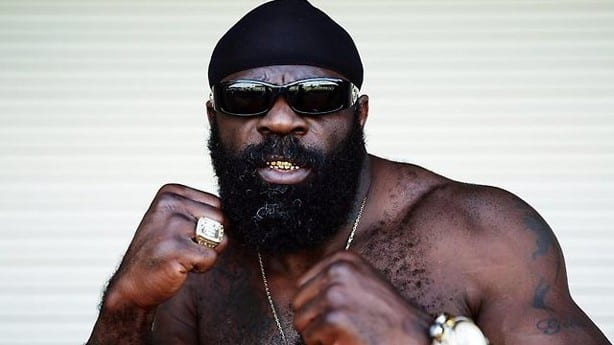 Kimbo Slice to Bellator MMA, don't act surprised…….
We knew Scott Coker had 'big plans' for Bellator MMA, but we didn't realise this was what he meant. The world of MMA (Mixed Martial Arts) is constantly throwing fans curve balls, and perhaps BMMA is most notorious in recent times for their antics. Pro wrestling style stand-offs and Tito Ortiz Is Official For Bellator 120 PPV" href="https://www.lowkickmma.com/UFC/alexander_shlemenko_vs_tito_ortiz_is_official_for_bellator_120_ppv_302479/">unnecessary grudge matches have become synonymous with Bellator, but that's not all Coker's fault.
The new Bellator CEO was left with a pretty ragged business model by his predecessor, Bjorn Rebney, but many assumed he would look to bolster the talent right away. Signings of Paul Daley and talks with Brock Lesnar and Alberto Del Rio show that Coker is keen to make sales, and the news that he has signed Kimbo Slice shows essentially the same thing.
That being said, it's common knowledge that the ex-street fighter was never the best MMA fighter. He started out with the now-defunct and terribly corrupt Elite XC promotion, beating James Thompson, Tank Abbott and Bo Cantrell, before getting exposed by Seth Petruzelli in 14 seconds (yet still banking half a million, nothing fishy there).
After his stint on The Ultimate Fighter 10 was cut short by Roy Nelson's belly, Slice would debut with a humdrum decision win over Houston Alexander at the TUF 10 finale. He was then cut following a second round TKO loss to Matt Mitrione at UFC 113. Since that time, KImbo Slice has made his name in pro boxing, beating a number of suspect fat guys and obvious cans to get a 7-0 record.
With any legitimate promoters in boxing obviously not wanting any part of the youtube brawler, he makes his way back to the world of MMA. Who else but Bellator MMA would be happy to sign someone with such certified past as Kimbo Slice.
Anyway, enough sarcasm for now, and a serious question; How long before BMMA becomes 'Bellator Wrestling Entertainment'? Let us not forget that the UFC also signed a certain pro wrestler with no MMA experience whatsoever, so at least you could argue that Kimbo Slice has actually won, no, fought in an MMA fight…..
Info source: Combat Press