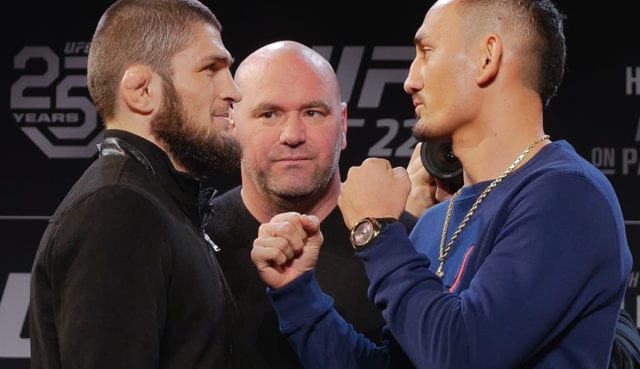 Khabib Nurmagomedov has shown his support for Max Holloway after being pulled from the UFC 226.
It's been well documented that the night of July 4th that Holloway had to pull out after he had been experiencing concussion-like symptoms and was taken to a hospital on Monday night.
Things appeared to be on the upswing as he felt better on Tuesday and still wanted to compete. However, late that day, things got worse and the call was made to pull him from this event.
There is some history between Holloway and Nurmagomedov. If you recall, Holloway tried to save the UFC 223 pay-per-view event once Tony Ferguson vs. Nurmagomedov on short notice, which was the original main event for the lightweight title, was scrapped after Ferguson pulled out with an injury.
However, Holloway wasn't able to make weight in time and didn't fight at the show as a result of the commission pulling him.
Holloway has gone on record by stating that he wants to fight at lightweight and has plans to eventually moving up to the weight class so it's just a matter of time before these fighters compete against each other inside of the Octagon.
Hours after the news broke, Nurmagomedov took to his official Twitter account to give his reaction to the fight being pulled as he wrote the following, "Keep your head up Champ, I know what it is, believe in yourself. @BlessedMMA."
Keep your head up Champ, I know what it is, believe in yourself. @BlessedMMA

— khabib nurmagomedov (@TeamKhabib) July 5, 2018
UFC 226 is set to take place on Saturday, July 7, 2018, at the T-Mobile Arena in Las Vegas, Nevada.
The main card will air on pay-per-view at 10 p.m. ET while the preliminary card will air on FOX Sports 1 at 8 p.m. ET and the promotion's streaming service, UFC Fight Pass, at 6:30 p.m. ET.