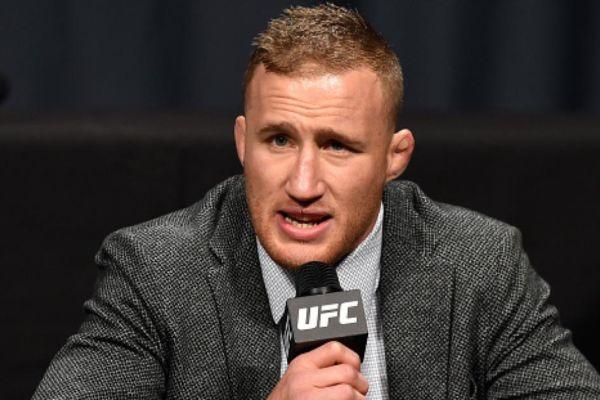 Justin Gaethje is usually a mild-mannered guy until he steps in the Octagon. But he is not cool with Paul Felder's 'unprofessional move' following UFC Philadelphia.
It was Gaethje's moment, or that's how he felt. He had just knocked out Edson Barboza in less than three minutes in the main event of UFC Philadelphia. "The Highlight," while making his media rounds, found himself sitting next to Felder, Tyron Woodley and Karyn Bryant at the ESPN analyst desk. Felder felt the need to interject his name into the conversation. Gaethje didn't like that.
"I just think it was an unprofessional move on Paul's part," Gaethje said on The MMA Hour (via MMAFighting). "I think he knows that. He's there in a different status than me. I was a fighter that night and he was an employee or a staff member, and I was just really caught off guard. I didn't even know what was happening until, like, the second time, I think when (ESPN broadcaster) Karyn (Bryant) brought it up and I was like, 'oh.' I bet that was probably like 17 minutes from the moment I stepped out of the ring, probably less than that … at least 15, whatever."
"But dude, I'm telling you, I hadn't seen the fight. From the moment they tell you that you have about four minutes until you're going to go into that hallway to make that walk to the Octagon, that's the last time you get to kinda process anything. And then after that, win or lose, it's over. You can't process anything. It's a million miles an hour, a thousand words a second, you're trying to take in everything, trying to not miss specific things, trying to do interviews, trying to make the decisions that you need to make to not sound like a fool."
"It's some crazy emotions that you're running through, so you have to control your emotions and all that stuff."
For his part, Gaethje handled the awkward encounter admirably. He even threw a dig back at Felder, saying "You don't want that to happen to you."
Still, the most violent man in MMA brings up an interesting point. Felder essentially did the same thing at UFC Lincoln after Gaethje knocked out James Vick. "The Irish Dragon" was the color commentator/post-fight interviewer on that night as well. According to Gaethje, that was the first time he tried to steal his thunder.

"Now, after the fact, that's two times in a row [that] he's gotten that opportunity," Gaethje said. "He got to think about it for, like, who knows how long he thought about it, asking me those two questions on those two nights. I didn't get one second to process that, and he got probably like three weeks to go over that. I don't know, whatever. So yeah, it's just not fair, for one, and it's not what I'm there for."