Former WSOF (World Series of Fighting) lightweight champion Justin Gaethje made a monstrous impact during his UFC debut last night (July 7, 2017), scoring a second-round stoppage victory over Michael Johnson in a back-and-forth slugfest that headlined The Ultimate Fighter (TUF) 25 Finale.
With a UFC victory now under his belt, Gaethje is wasting no time in calling out for an interim title bout at the post-fight press conference (quotes transcribed by MMA Fighting):
"Whoever gets me closer to an interim title right now," Gaethje said at Friday's post-fight press conference. "(Conor) McGregor's not here, so I'm going to get that interim title on my waist, then when he comes back: pressure. I pressure people. You think you can take it. He has a fantastic left hand. If he touches me with it, I'll go to sleep. If not, you saw what will happen tonight. [Johnson] has never been finished (by knockout) before. I finished him in the second round.

"I got the biggest heart. I'm the most violent guy in this division. I'll prove it time and time again. Every time, I've been 'Fight of the Year.' For now (this is it). I'll fight again, that will be considered 'Fight of the Year.' I can take the most boring fighter and put him in that fight right there, so that's what I do. I'm an entertainer."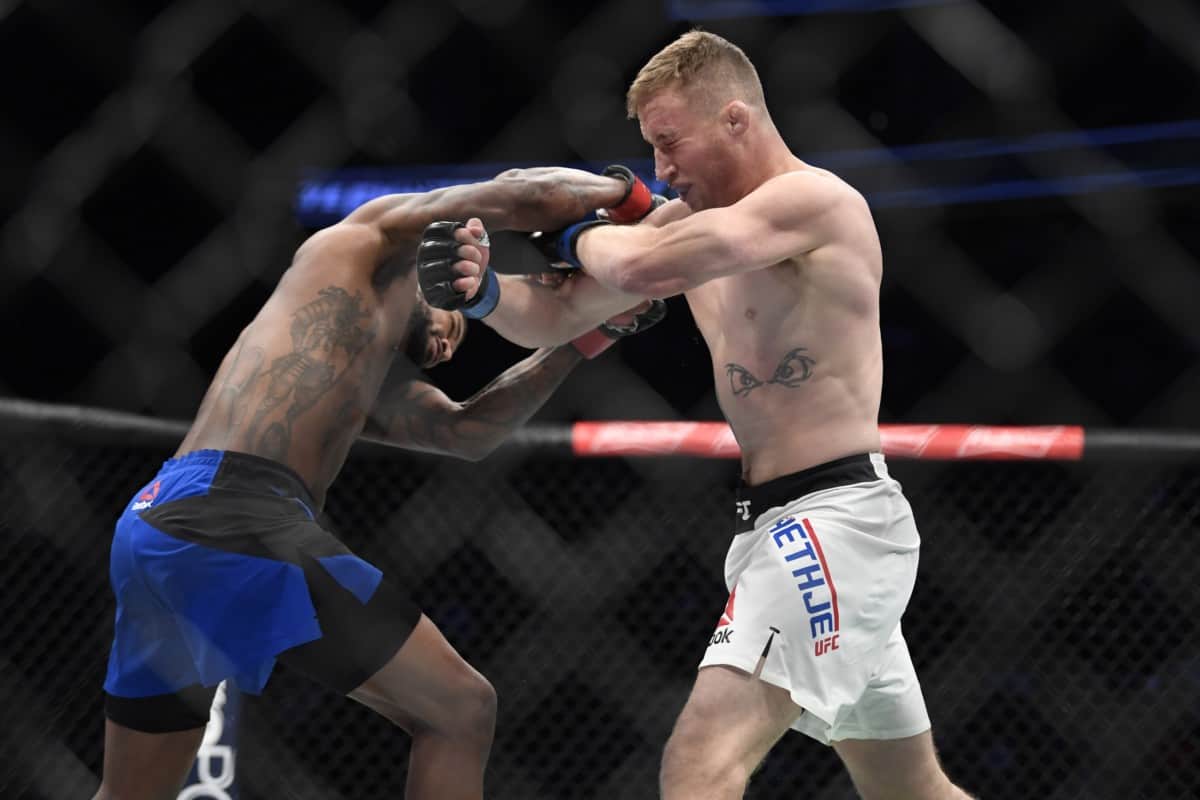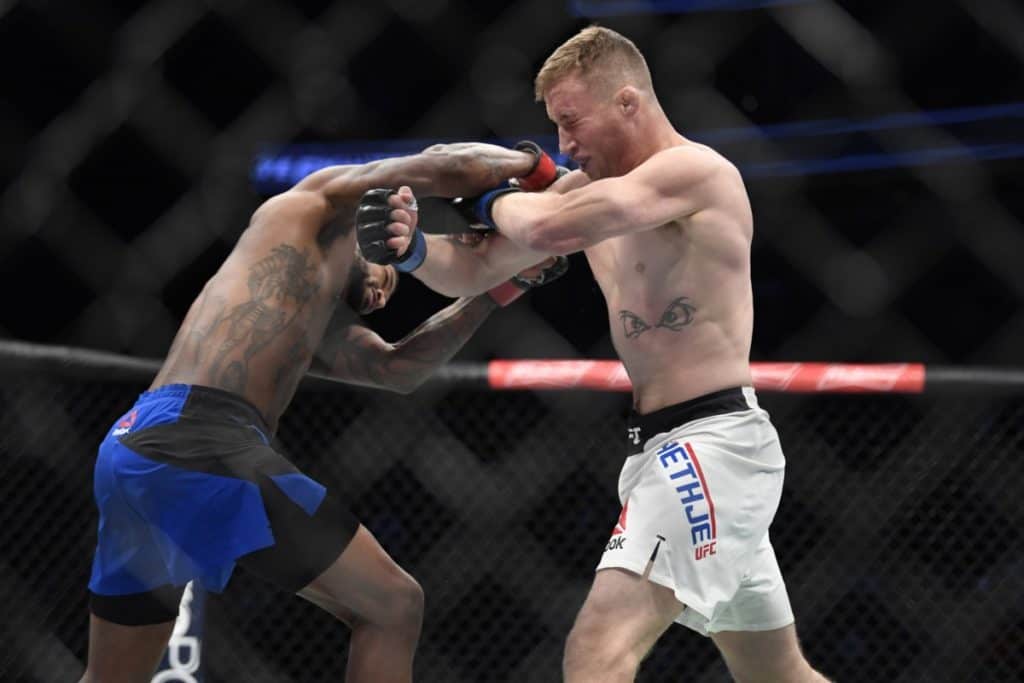 With the win, Gaethje extended his professional record to a perfect 18-0, but he isn't afraid of losing. Throughout his career, he's been known as a highly entertaining fighter to watch, and his biggest fear is under performing:
"I'm not infallible," Gaethje said. "Never will be. I will lose, like I said. I'm not scared to get knocked out, I'm not scared to lose. I'm scared not to perform.

"It sounds dirty, but I'm a promoter's wet dream. What else can you ask for? I literally go in there and put it on the line. I have no regrets. I'm not scared to lose. I'm an entertainer. That's proven, because I got a performance (bonus) and knockout of the night. That's what I'm in there for. I'm here to make money, make a living. This is my job now. I was so ready for this. Everyone says 'Octagon jitters.' That's because they're not ready. There's no reason to rush this process. If you're a young fighter out there, take your time. Wait until you're ready. I was so comfortable in back. I was so comfortable this whole week."
It seems that the ex-WSOF champion could certainly add some new life to the UFC's already talented lightweight division. And he's aiming for the top, calling out the champion McGregor, who he acknowledged had posted about his win on social media by offering his own repspects,, along with top-ranked Tony Ferguson for a fight in the immediate future:
"It's been pointed out to me that [McGregor] tweeted tonight about my fight," Gaethje said. "Real recognize real. That dude's a warrior, I'm a warrior. If I get the interim belt around my waist — I've only got to do that maybe one or two more times, and then, like I said, I'm not going to ask for the money fight; I'm going to be the money fight. You sound like a little b*tch when you ask for the money fight.

"I'm going to earn it, one at a time. I don't care who's next. I want to fight Ferguson, but he'll probably say I'm not worthy. He lost to Michael Johnson. I just finished him. So he'll be full of sh*t when he says that."
Who would you like to see him face next?