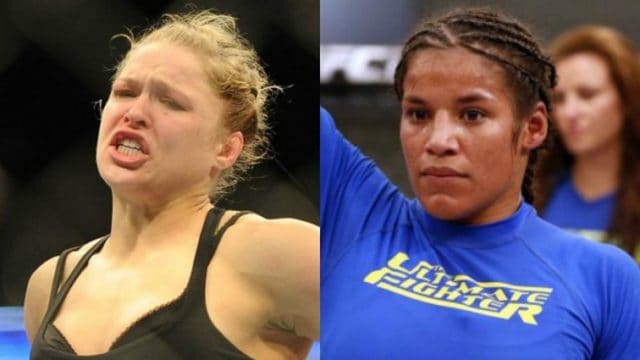 Ronda Rousey's set to take on Holly Holm in the main event of this weekend's (Sat., November 14, 2015) UFC 193 from Etihad Stadium in Melbourne, Australia, and No. 5-ranked women's bantamweight Julianna Pena has apparently made the trip Down Under to mix things up in a contender-starved division thanks to "Rowdy's" insane run of dominance.
Now that "The Venezuelan Vixen" has won two straight bouts after returning from a devastating knee injury that cost her all of 2014, Pena proclaimed to Submission Radio that the UFC brought in her to mix things up. She did just that by stating that there aren't really five girls in the UFC who can beat her before:
"I think that they want me to generate some noise. You know, they got me ranked number 5th in the world, but I can't think of four girls that can beat me. So I don't know what the that number is all about, but I'm just happy to be here and super stoked to be representing this event. You know, all eyeballs across the globe are gonna be covering this event. It's a huge time for women's sports and I'm just so blessed and happy to be a part of it."
Even though she isn't fighting this weekend, Pena isn't necessarily taking it all that easy. She's looking at UFC 193 as an opportunity, one that could become the next big heel in women's MMA because of it:
"Yeah, I don't look at this as a vacation, I look at it as work. And I came here to generate some noise and to make some waves, and to you know, rustle some feathers. So I definitely think that this is a chance and an opportunity. It's up for grabs, and why not? Why not, you know, be the devil's advocate and play on the other side of the fence. I think it's great."
Displaying the cattish attitude that didn't make her any friends on The Ultimate Fighter (TUF) 18, Pena came out and said she's fully ready to face off with Rousey if Holm withdrew for any reason:
"I'm hoping Holly backs out right now. I brought my mouthpiece, I brought my gear, I'm ready to go. So whatever."
With that established, Pea came straight out and said she deserves the next title shot against Rousey, because she rates her record in the octagon at 6-0 just like Rousey counting her TUF bouts, and there's simply no one else left if the champ destroys "The Preacher's Daughter":
"Absolutely. I'm 6-0 in the octagon right now – in the UFC octagon. On The Ultimate Fighter, everyone wants to say that those fights didn't count. Well I'm pretty sure that Sara Moras had to get real stiches to stitch her face back up. And I'm pretty sure I made Ronda Rousey bawl her eyes out more than once. So with that being said, I take those fights very seriously, and I take them as real fights. They were real fistfights to me. My knee swelled up to the size of a balloon the whole time I was in that show, and I still managed to win. So I definitely think that I'm next. I'm 6-0. Ronda's 6-0. Why not? Who else? Who else are they going to get? They don't have anybody else."
Pena suggested that beating Rousey would avenge her close friend Miesha Tate's prior two loses to their mutually hated rival:
"Yeah absolutely. I think that me and Miesha are great friends. You know, I'm happy for all the opportunities that come her way, and I know she's happy for all the opportunities that come my way, and it would be a sweet victory for both of us. Absolutely."
In terms of UFC 193, the brash Pena doesn't have a prediction nor care who wins the feature bout, because she only wants the belt:
"I don't know. Who cares. Whoever has the belt is what I want. May the best woman win."
"Vixen" then closed by saying she may call out Rousey in the style of another brash and much more notorious MMA fighter of years past:
"Yeah, you know, I was thinking about jumping the cage and being "I want my belt", you know, and giving them the "I'm the best ever" like Phil Baroni. So I thought about it, I thought about it." If you enjoyed this story, please share it on social media!