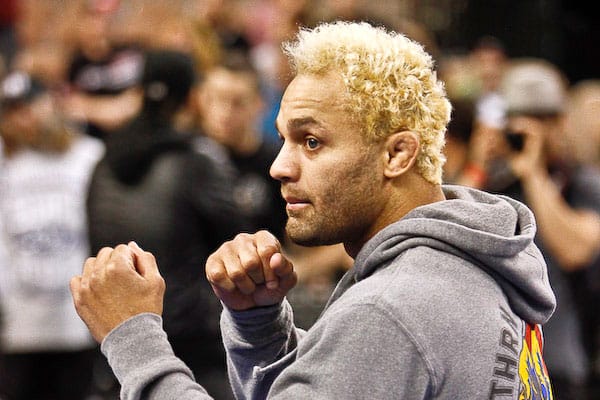 After being a welterweight mainstay for nearly a decade and even challenging for the belt in 2010, The Ultimate Fighter (TUF) 1 contestant Josh Koscheck had hit some rough times over the past few years. Losing to three of the division's best in Johnny Hendricks, Robbie Lawler, and Tyron Woodley all in devastating fashion, it looked like it may be the end for Koscheck.
However, news has surfaced that makes it seem as if the UFC's original bad boy is not ready to hang up his gloves just yet.
MMAJunkie has reported that UFC officials are targeting a return bout for Koscheck in which he would take on rising welterweight Neil Magny at February's UFC 184 from Los Angeles, California. Promotion officials have also indicated that the fight has been offered to both combatants and at least one of them have verbally agreed to terms for the scrap.
Magny who is also a former TUF competitor, appearing on season 16 of the reality show, had a rough start to his young UFC career going 1-2 in his first three bouts. However, he has since been able to flip the switch and picked up an ultra-impressive five wins throughout 2014. These included wins over William Macario, Alex Garcia, Rodrigo Goiana de Lima, Tim Means, and Gasan Umalatov.
For Magny, this fight may not be his best option as a win over an aging, withered down Koscheck wouldn't do much for his stock in the division and a loss would hurt him greatly.
For "Kos", this could be a quite a huge bout. If he really does want to return, Magny is a viable opponent who could tell us if Koscheck has anything left in the tank.
At almost 37 years old, and not having fought in over a year, will the former TUF original have anything left to over? Do you think Koscheck could make one last run at glory?

Check out UFC 184's current lineup:
Champ Chris Weidman vs. Vitor Belfort – for middleweight title
Champ Ronda Rousey vs. Cat Zingano – for women's bantamweight title
Frank Mir vs. Antonio Silva
Yoel Romero vs. Ronaldo Souza
Josh Koscheck vs. Neil Magny