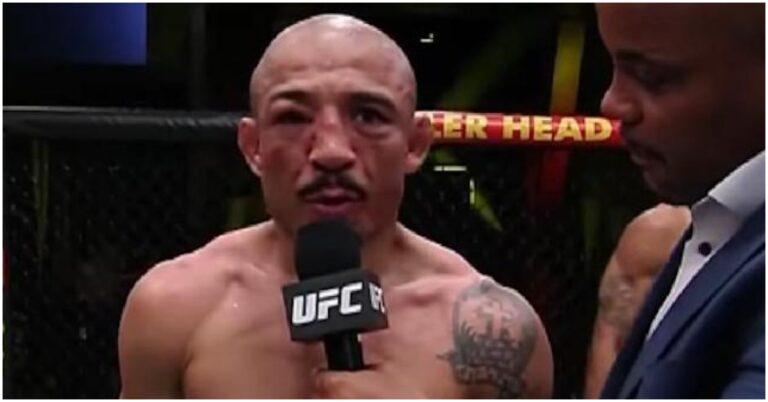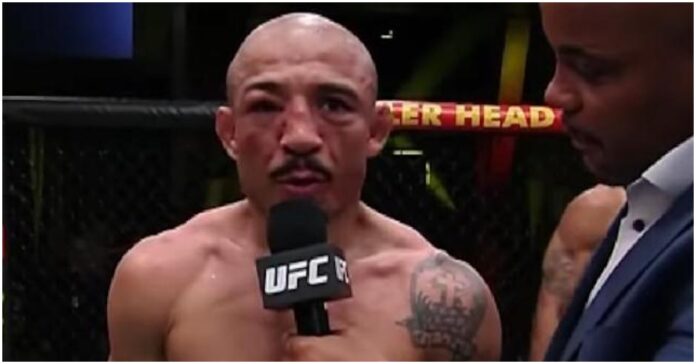 Jose Aldo made it two wins in a row with a dominant five-round showing against Rob Font at UFC Vegas 44 last night.
The former UFC featherweight champion then told Daniel Cormier that in an ideal world he would get another bantamweight title shot next but that is not on the cards so he'll settle for a scrap with TJ Dillashaw.
"Of course, I want to fight for the title but we don't know what's going to happen with that," Aldo said through an interpreter during his post-fight interview. "Dillashaw's right there, so I want to fight Dillashaw. That would be the best opponent next."
Jose Aldo Happy To Prove He Can Still Go The Distance
A noticeable trend in all of Aldo's recent losses is that he starts the fight well before fading in the later rounds. 'Scarface' got the best of the early stages of both his fights with Max Holloway before suffering TKO defeats. The Brazilian also held his own against Petr Yan in the early rounds before the Russian took over and secured a fifth round TKO win.
During his post-fight chat with Cormier, Aldo spoke with glee about going the 25 minute distance and also showing off all of his different skills inside the Octagon.
"Everyone thinks I can only go three rounds but I proved I can do five and I want to be a champion of this division and I'm still working for that," Aldo said. "We've been talking about this, to become a complete MMA fighter. So yes, I'm going to be standing up and when it goes to the ground I'm going to work down there. This is the new Aldo you're seeing." (Transcribed by MMA Junkie)
Do you think Jose Aldo has what it take to become a UFC champion again?