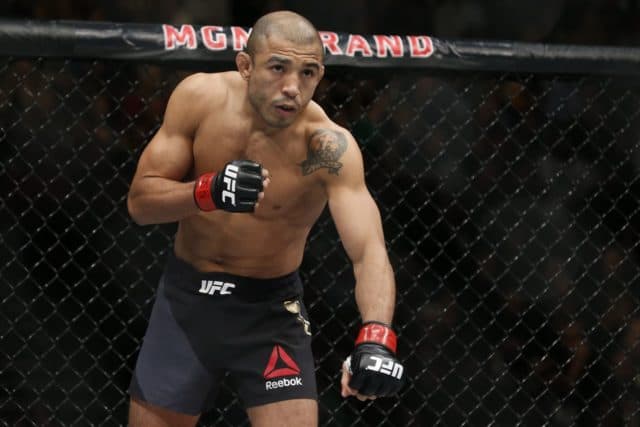 Jose Aldo is back in the win column.
The Brazilian mixed martial arts (MMA) legend got back to his winning ways at UFC on FOX 30 late last month. Aldo defeated Jeremy Stephens via first-round TKO after landing some hellacious body shots.
It was Aldo's first UFC victory since July of 2016. "Scarface" had a decade-long undefeated streak snapped by Conor McGregor back in 2015. He bounced back several months later with a win over Frankie Edgar to capture the interim 145-pound title.
Aldo was promoted to undisputed champion yet again but was dethroned in back-to-back meetings with current division king Max Holloway.
Now, Aldo is back on the winning track and things are looking a lot better than they did late last year. He recently spoke to Brazilian media at the Upper Arena in Rio De Janeiro.
One of his interviewers asked Aldo if a move up to lightweight still interests him now that he has been victorious again in the featherweight division.
Aldo said that he's still interested in a fight at 155 pounds, but only for a "big" fight (quotes via MMA Fighting):
"I do. Dede has already speculated that for me. If there's an opportunity, I want it. Not because of the weight cut, but to do a big fight.

"I think that's what's missing in my career, testing myself a little bit against other athletes from other divisions.

"It would be great. But I'm waiting for a definition in the division so we can make this decision in the future."
Aldo is currently the No. 2-ranked featherweight in the UFC. He sits just behind No. 1-ranked Brian Ortega and champion Max Holloway. With the current mix up at the top of the featherweight division, things could get very interesting for Aldo moving forward.
Perhaps an interim 145-pound title fight with Ortega could be on the horizon should Holloway not overcome his recent health woes.