Jorge Masvidal Responds To Leon Edwards' UFC Singapore Callout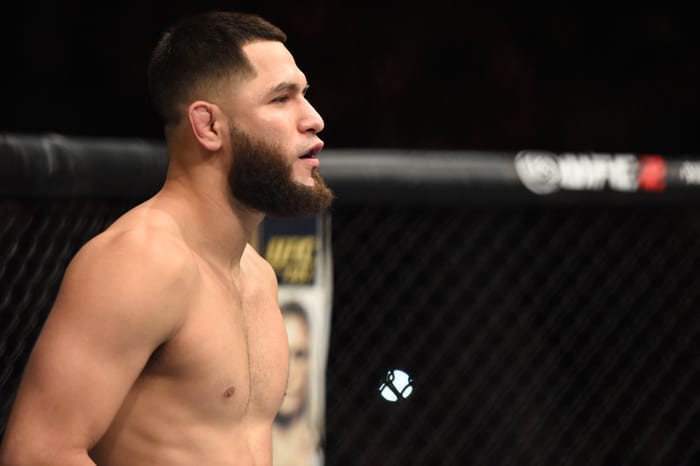 Jorge Masvidal is ready to get back into the Octagon.
"Gamebred" is on a two-fight losing skid after back-to-back decision losses against Demian Maia and Stephen Thompson. Despite his recent struggles, Masvidal is still one of the better known fighters in the UFC's 170-pound division.
Yesterday morning (Sat. June 23, 2018) rising prospect Leon Edwards picked up the biggest win of his mixed martial arts (MMA) career when he defeated Donald "Cowboy" Cerrone via unanimous decision. Shortly after the victory, Edwards called out Masvidal to a future Octagon meeting.
In an interview with MMA Junkie, Masvidal seems more than willing to share the cage with the Englishman next:
"(Expletive) people are always calling me out," Masvidal said. "I don't give two (expletive) who calls me out. I just want a big fight. If Leon is the biggest fight that I can get my hands on, meaning the biggest name and biggest ranking, then that's who it is."
Masvidal would much rather take on a top-10 opponent next, but everyone is either matched up or not ready to fight yet. If Edwards is the fight presently available to Masvidal then he's ready to take it:
"It doesn't really matter, because everybody seems to be matched up and locked up. So maybe it's Leon Edwards, and maybe it's not. It depends on the timing. The bigger the names, the better," Masvidal said.

"At this stage in my career, I only want top-10 guys, or the closest thing to get me to the title. I don't think Leon Edwards is quite there, but it's a fight, and it's competition. The guy's obviously skilled and on a big win streak, so it would be awesome to get the fight.

"I don't see (Neil) Magny, No. 7 or whatever the (expletive) (expletive) ranking he has behind him, I don't see him stepping in any time soon, so I'm not going to keep waiting for fantasy matchups that are never going to happen. So if it's Leon Edwards, Leon Edwards it is."
Masvidal is ready to fight as soon as September. He was recently disappointed after receiving news that several fighters didn't want to fight. A call from the UFC offering him an opponent would be a nice change:
"I won't even mention their names in this interview, because I don't want to give them any type of attention or name recognition," Masvidal said. "But there were a couple of guys that I asked for, and the UFC said, 'Hell, no. We can't give you those guys. You're going to murder those guys.'

"(Darren) Till is waiting for a title shot. Rafael dos Anjos might be fighting (Kamaru) Usman, and Usman thinks he deserves a title shot, as well. Magny's just a (expletive). (Demian) Maia doesn't seem like he wants to fight anymore; I was trying to get a rematch with him or (Stephen) Thompson, and Thompson's hurt.

"Santiago Ponzinibbio's also hurt, but he's also my teammate, so I'm not trying to fight the guy. All the other top-10 guys are locked up. So whoever I can get my hands on, let's go."