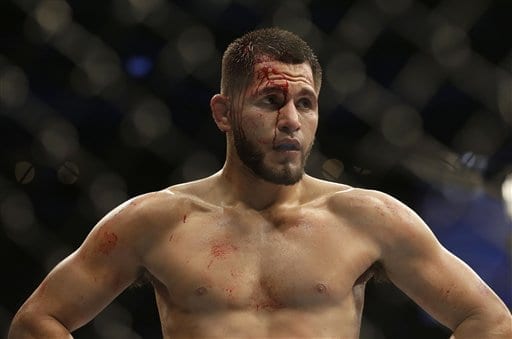 After missing weight prior to his controversial decision loss to Al Iaquinta at April 4's UFC Fight Night 63 from Fairfax, Virginia, longtime veteran Jorge Masvidal proclaimed he was moving back up to welterweight as he got older.
He teased a bout with fellow lightweight-turned-welterweight Benson Henderson at April 25's UFC 186, but it never came to fruition. However, Masvidal has his first welterweight opponent in the UFC.
News came this afternoon that Masvidal will square with Cezar 'Mutante' Ferreira at The Ultimate Fighter (TUF) 21 Finale on July 12 from a yet-to-be-determined locale in Miami, Florida. The event showcases the finals of this season's groundbreaking 'Blackzilians vs. American Top Team' format, and ATT's Masvidal and the Blackzilians' Ferreira obviously fit with that theme perfectly.
Ironically enough, TUF Brazil 1 winner 'Mutante' will be cutting down to 170 after an up-and-down run at middleweight.
Former Strikeforce title contender Masvidal won five of his seven bouts in the Octagon, defeating the likes of Pat Healy, Daron Cruickshank, and James Krause. His at times too smooth style lead to a couple close calls in his only two losses, so a return to a higher weight class could give him the power he needs to finish more fights in decisive fashion.
'Mutante' has never had that problem, but he's also shown a tendency to be finished, as well.
Fighting a bit overaggressive while losing two out of his last three bouts, Ferreira was knocked out by both Sam Alvey and C.B. Dollaway in a year. His UFC Fight Night 61 loss to Alvey was especially deflating, as he threw every strike in the opening round only to see his opponent floor him with one well-placed power shot.
The mutual shifting of weight classes should provide the bout with a bit of intrigue, as Ferreira should hold the decided size advantage over the always-game Masvidal. 'Gamebred' will bring the experience edge into the fight as he does against most opponents.
Taking place just one day after July's 11 blockbuster UFC 189 extravaganza, TUF 21 Finale is headlined by a pivotal Henderson vs. Michael Johnson lightweight main event.