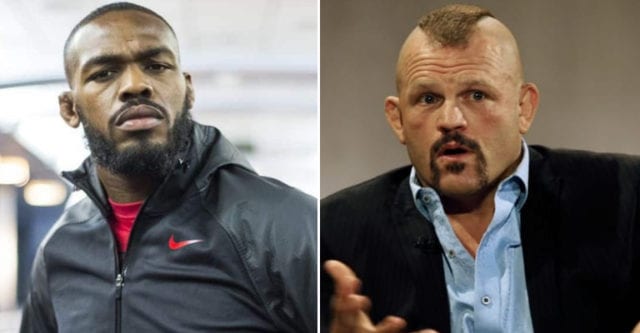 Earlier today, the mixed martial arts world was abuzz with the news that longtime former UFC light heavyweight champion Chuck Liddell announced he would come out of retirement.
'The Iceman' had been teasing just that for months, yet it was still surprising to actually hear the 48-year-old MMA great actually confirm he would actually return to the cage. What was even more surprising was the fact he called out the supremely talented but always troubled Jon Jones for a match-up after he had two fights under his belt.
While it would be a match-up of two of the greatest champions in the storied UFC light heavyweight division, it's obviously a hard fight to get behind considering Liddell is almost 50. Add Jones' repeated issues with drugs both recreational and performance-enhancing, and you have a match-up that makes about as much sense as it has a chance of actually happening.
But that doesn't mean 'Bones' would let the callout slide while he awaits his latest punishment from USADA. The suspended former champion replied to 'The Iceman' by offering to fly him out to Albuquerque for a fight:
Old Chuck has been calling me out for years! I get it, I hold pretty much every record in the division. I normally try to respect my elders but if you want it come get it. Id literally fly you out to Albuquerque this weekend.

— Jon Bones Jones (@JonnyBones) May 14, 2018
Jones then questioned the strength of Liddell's chin a few moments later:
You might want to test the strength of that jaw before you take a bite you cant chew

— Jon Bones Jones (@JonnyBones) May 14, 2018
And Jones didn't let it go there, as he told the unretired knockout artist that while he may not be eligible to fight until mid-2019 due to 'scheduling conflicts' with other past-prime greats:
In all seriousness @ChuckLiddell I appreciate your offer for a fight, but due to scheduling conflicts may not be able to fulfill till mid 2019 .
In the Upcoming months I have similarly lethal opponents in Ric Flair and George Foreman awaiting .

— Jon Bones Jones (@JonnyBones) May 15, 2018
Jones is correct in saying that Liddell has been calling out for years because the fan favorite slugger has been making it a point to do so ever since 'Bones' beat his longtime training partner Glover Teixeira four years ago.
It's a laughable match-up, of course, and it probably wouldn't be possible until Liddell was almost 50 years old because of Jones' latest suspension. He's been linked to a trilogy fight with Tito Ortiz for his comeback in the meantime, supposedly under Oscar de la Hoya's Golden Boy Promotions.
So no matter how he fares in his comeback, Liddell has people talking – even the great Jon Jones. Are you interested in watching the aging Liddell return to MMA, or are you worried about his safety?