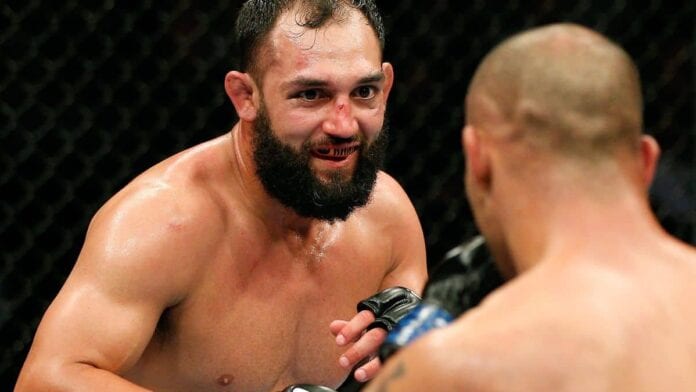 Former UFC welterweight champion Johny "Bigg Rigg" Hendricks has finally appeared in the media today (October 12, 2015) to explain his falling out of his scheduled UFC 192 bout with Tyron Woodley which was scheduled for October 3, 2015.
All we had been made aware of up until today was that Hendricks experienced some issues while cutting weight, and was ultimately forced out of the bout prior to weigh-ins when his body reportedly shut down.
The former champion, speaking on the MMA Hour, went in to more detail, admitting that everything was going well at first. However, "Bigg Rigg" claims his body quit, and after a visit to the hospital, it was made clear that his intestines were dried up, and that he had suffered a kidney stone:
"Everything was going good. I was drinking two and half gallons a day and I was walking right around 193, which is normal. Then my body just quit, I couldn't go to the bathroom. It was was if my body was holding on to everything, which was sort of weird. So we started doing the weight cut, and I was still drinking two and half gallons a day. Then I just hit a plateau where I would feel lightheaded, which is common. I didn't think anything of it, and then I woke up on Thursday feeling really good at 184 pounds. I thought it was going to be perfect, lost 10 pounds then wake up on Friday and have to lose an extra three pounds. I went and did my first session and only lost two pounds. I was like, 'Oh boy.' That was when my body felt different. I tried to push through it, went and did another session and worked out and that is when I realized something was wrong. Both my left and right sides started to hurt. I went to the hospital and that's when I found out that my intestines were dried up and that I had a kidney stone on my right side."
Not only did Hendricks' body suffer, which of course is more important than any fight, but his career did as well, as he missed out on a huge opportunity, and one that was considered to be a title eliminator bout.
Fans were extremely excited about the scheduled fight, and for that reason, Hendricks has received quite a bit of criticism. However, "Bigg Rigg" has tried his best to avoid it, challenging the critics to step into his shoes:
"I don't read it. Here's the thing: I know there is going to be venom spit my way. But people don't understand, they don't get to watch one fight. Well, I don't get paid. I had to give up three months of a training camp that I worked hard and that I was very prepared to fight Woodley. Then the next fight, lets say in March or April, I would be fighting for the title. These people that are spitting venom, they don't look at that. They only look at what's in front of them at that moment. What I say to them is, try to lose 20 pounds. I have to lose 30 pounds each training camp. I say to them, come with me and try to lose 20 and I'll give you a week to do it. How many people can actually say that they've lost 20 pounds in one week? I do know that this is my job and that's what makes me different than everybody else."
Despite having made the 170-pound limit before, and this situation possibly being the result of his diet rather than the cut, Hendricks does indeed cut quite a bit of weight. After the incident, UFC president Dana White said that he considered the former champion to be a middleweight now, albeit "Bigg Rigg" saying that he would like to stay at welterweight.
What should be the next move for Hendricks?