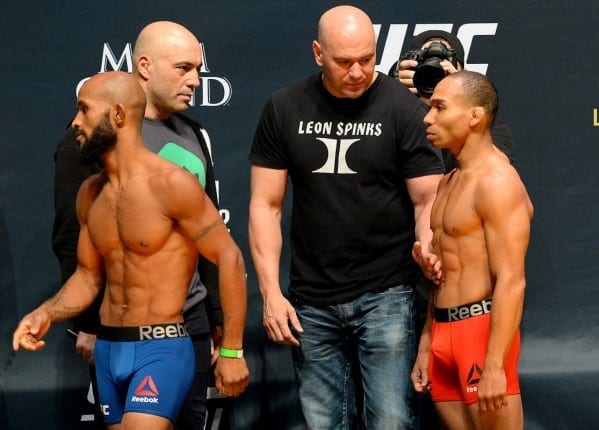 John Dodson has been waiting over two-and-a-half years for his second shot at dominant 125-pound champion Demetrious Johnson, but according to his memory of their first fight, he was essentially already named the champion.
'The Magician' recalled the moments after his incredibly close first match-up with 'Mighty Mouse' at January 2013's UFC on FOX 6 in a recent interview with The Las Vegas Sun (via MMA Mania), noting that UFC president Dana White deemed him the champion before the official decision, which Johnson ultimately won, was announced:
"Dana White came up to me and said, 'John, you are the new champion. How does it feel?' I was like, 'Yes, the boss just told me I was the new champion. I don't see how they cannot give this fight to me.' Hearing those words was like already having the belt around my waist."
Dodson believed his boss, to the point of where he thought of no other way it could play out. He told the story of how he recalls White's encouraging words on a daily basis:
"I thought there was no way it could go any other way," Dodson said. "I play that thought in my head every single time, every day because Dana White told me I won."
But Dodson didn't win the belt like White told him, and Johnson has since gone on to one of the most dominant runs in promotion history. That's left an especially bad taste in his mouth heading into his rematch with Johnson in the main event of tonight's (Sat., September 5, 2015) UFC 191 pay-per-view (PPV) from Las Vegas:
"I get a chance to go out there and destroy somebody who I do not like," Dodson said. "I dislike Demetrious Johnson because of the fact that he has something that belongs to me."
Because of that, 'The Magician' wants to give his surging opponent a beating unlike any he's ever had prior, and then take it a step further by destroying any desire Johnson might have to fight him one more time:
"I'm going to murder him in the cage, lay death to his title reign, and not only that, but put whatever hope I can and pray that he doesn't want to fight me again." If you enjoyed this story, please share it on social media!