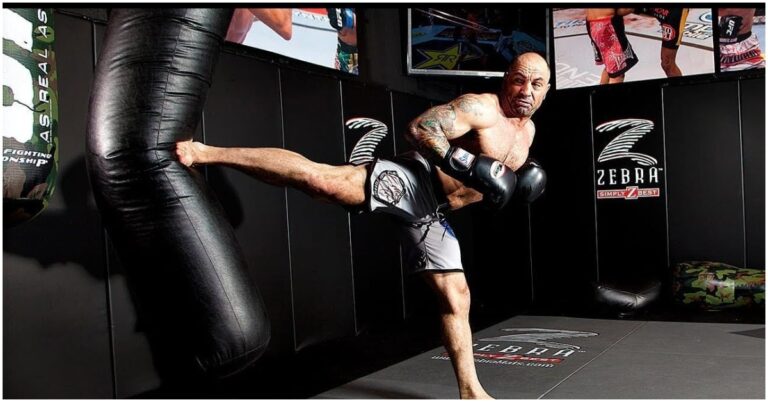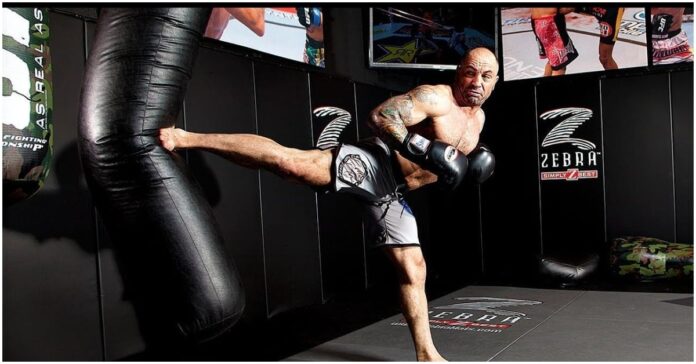 Joe Rogan has provided fans an insight into how he's currently training after posting his latest video on Instagram. Rogan who is a former taekwondo competitor himself shared the video of him throwing powerful spinning back kicks onto a Muay Thai heavy bag. The UFC broadcaster was unleashing some hard-hitting strikes despite still recovering from a knee injury.
Rogan's impressive technique was on full display and his intensity was without a doubt high. He shared a message alongside his post providing brief updates on how he's recovering and a special mention to former UFC Champion George St-Pierre.
"Working on perishable skills. 10 rounds on the bag followed by technique work. I wanna sharpen everything up again now that my knees are feeling good. Many thanks to @ways2well for helping me with my injuries and @kneesovertoesguy for the knee strengthening instruction! And shoutout to the great @georgesstpierre for the inspiration from his @rootsoffight shirt!"
Watch Joe Rogan's training video here:
Joe Rogan Talks on Conor McGregor's 'Freakish Power'
It's pretty clear to see that Rogan himself packs a devastating punch, or kick should we say. Watching fights nearly every week must mean that you see devastating power quite often.
However, there is one man and one moment that sticks out to Rogan above anything else.
On an episode of the JRE (Joe Rogan Experience) Podcast Rogan calls back 2015 to when Conor McGregor starched Jose Aldo just 13 seconds into their bout.
"He's just got that freakish punch. I mean that's just genius; he had a little bit of a cut over his right eyebrow from that punch. Look how genius this is, that's so genius. You know what's even more genius? He worked on the exact same thing, and he mimicked what he was going to do, in the green room. There's a video of him, Conor, Conor pretending to be Aldo and then him showing what he's going to do and counter. He does the exact same move in the green room, knowing in the dressing room, knowing that's going to be the fight."
Despite seeing many fights, it appears no one throws a punch quite like Conor McGregor.
Who is the hardest hitter in the UFC?