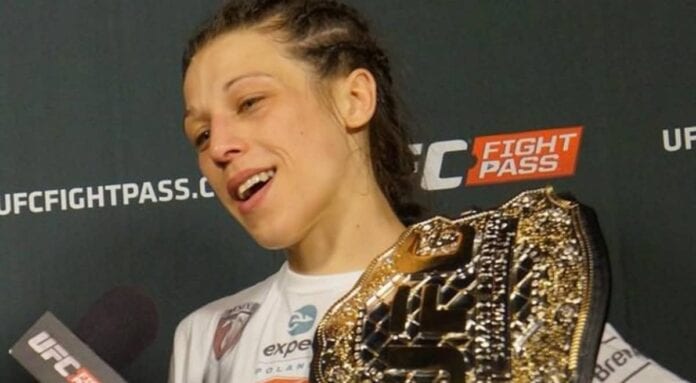 It seems as if the UFC women's strawweight champion, Joanna Jedrzeczyk, is becoming a bigger and bigger star by the day. With her entertaining Polish-accented trash talk and post-fight interviews coupled with her devastating in-cage skills, fans are growing to love "Joanna Champion".
It seems as if her stardom has hit an all-time high today as she announced via her official twitter account that she has signed a deal to join sports apparel giant Reebok:
I'm proud to be joining #TeamReebok today! Stay tuned for big things from me & @Reebok @ufc pic.twitter.com/RtzQVLwDm9

— Joanna Jedrzejczyk (@joannamma) June 25, 2015
Reebok also has a blockbuster deal with the UFC, which is set to go into effect next week, but only a select group of fighters have solo deals with Reebok. This group includes the likes of Ronda Rousey, Conor McGregor, Paige VanZant, Johnny Hendricks, and Anthony "Showtime" Pettis, putting Jedrzecyzyk into a group with some of the sport's elite.
The 115-pound champion initially gained attention when she battered and destroyed heavy-favorite Carla Esparza back at March's UFC 185 to steal the belt. The Polish striker returned to action last weekend (June 20, 2015) in Berlin, Germany to defend her title for the very first time live on UFC Fight Pass.
Taking on top contender, and seasoned grappler Jessica Penne, Jedrzeczyk stuffed takedown after takedown, which allowed her to truly showcase her world class striking. After just three rounds, Penne was battered, bloodied, and beaten, giving the referee no choice but to end the fight.
"Joanna Champion" increased her popularity even more after the fight, saying that nobody in the division is ready for her, and it seems as if it worked due to her new illustrious deal.
It was recently announced that she may need surgery on her thumb, but it sure does seem as if Jedrzeczyk has a very bright future ahead of her.