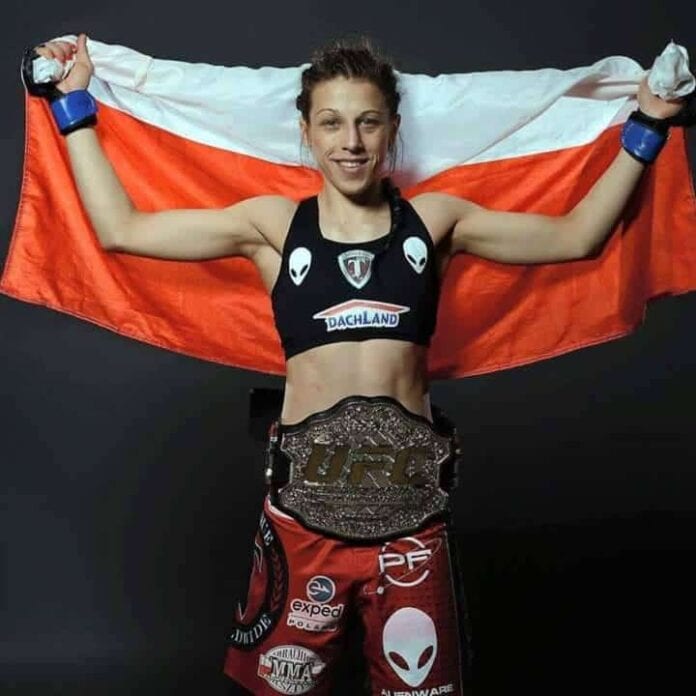 It's no secret that "Rowdy" Ronda Rousey is the face of women's mixed martial arts (MMA), and one of the biggest superstars in MMA period, but there may be another female looking to ride Rousey's coattails into stardom.
UFC women's strawweight champion Joanna Jedrzeczyk returned to action yesterday (June 20, 2015) in the main event of UFC Fight Night 69 to defend her title for the first time against former Invicta champion Jessica Penne. And the result? Well, the result was a star in the making as Jedrzeczyk absolutely battered and destroyed Penne, as well as cutting a post-fight interview that has everyone talking.
Even Rousey took notice, praising the polish champion via her official twitter account:
Speaking at the post-fight press conference, "Joanna Champion" said that she considers the "Rowdy" one to be the best, but she hopes to be the Rousey of the 115-pound division:
"I follow Ronda," Jedrzejczyk said. "I am big fan of her. She is simply the best for me. But I want to be Ronda Rousey in the strawweight division.""
Jedrzeczyk impressed many with her decorated striking skills yesterday, smashing Penne and leaving the challenger a bloody mess. The fight was called standing when the referee decided that Penne had endured enough, but should it have been stopped earlier? Jedrzeczyk says that she can't worry about those things. The champion said that she was ready, and that she can't help that she's the best:
"I cannot respond to my opponents," Jedrzejczyk said. "She's supposed to win this title, but I was ready for her. So I put on a great performance. I cannot help that I'm simply the best."
With her devastating in-ring skills, as well as her savvy mic skills, it looks as if the Polish striker has a bright future ahead of her. She even admitted that she got emotional when UFC president Dana White called her after the fight, noting the amazing year she's had:
"Five minutes ago, I was crying in the restroom because [UFC president] Dana [White] called me and I just imagine how big this year was for me," Jedrzejczyk said.
While Rousey has become known for her mercifully quick finishes, it seems as if the strawweight champion is the complete opposite, showing no mercy in completely one-sided massacres. However, Jedrzeczyk claims that she just listens to her corner, and that she is very happy:
"No, I was listening to my corner, to my trainers," Jedrzejczyk said. "They say that I should take it easy, just throw a few punches, one by one. Not like an extra eight or 10. I did what they said and it was the key to the success. So, I'm very happy."
As for what's next for the champion, it seems as if she will get the winner of UFC 190's Claudia Gadelha, who Jedrzeczyk beat by split-decision last December, vs. Jessica Aguilar bout. But can anyone challenge the lethal strawweight queen?