Jimi Manuwa secured a second straight highlight reel knockout when he stopped Corey Anderson with a huge left hand in the main event of yesterday's (Sat., March 18, 2017) UFC Fight Night 107 from the O2 Arena in London, so a huge fight should await the British combatant in his next trip to the cage.
Just don't expect it to be against former champion Jon Jones.
Speaking at yesterday's UFC Fight Night 107 post-fight presser (quotes via MMA Fighting), Manuwa said he is not interested in fighting Jones because he was suspended for one year after he tested positive for banned substances:
"I'm not interested in Jon Jones. Jon Jones takes steroids and now he's been banned for steroids. Before, I was a big fan of Jon Jones, the things he's done in the Octagon and everything, but he's been suspended for a year or something and he's had issues before. He's a great fighter. I greatly respect him, but he's been banned for steroids and that taints everything that he's done. So, I'm not really interested. When he comes back, I'll fight him, no problem. But I'm focused on the belt right now, and that's going to be the winner of DC and 'Rumble' Johnson."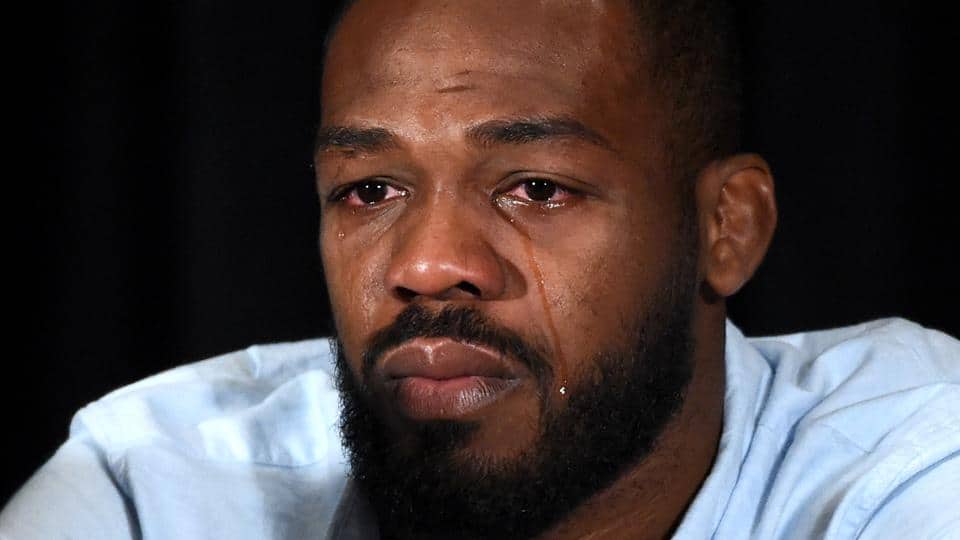 Jones was infamously suspended only three days before his heavily promoted rematch with Cormeir at last July's UFC 200 for using banned estrogen-blocking clomiphene and Letrozol, which USADA later agreed was due to a sexual performance-enhancing drug in arbitration but still suspended Jones for one year. "Bones" is also still on probation for his highly criticized hit-and-run accident on a 25-year-old Albuquerque woman in April 2015, and his career has unfortunately become a whirlwind of one harrowing mistake after another.
Due to that dynamic, Manuwa called for a title shot against the winner of April 8's light heavyweight championship rematch between current champion Daniel Cormier and fellow knockout slugger Anthony Johnson, and  the "Poster Boy" is certainly in the right division to do it, as the 205-pound fray is considered one of the shallowest in MMA.
But many still regard Jones as the uncrowned, fallen champion, a legend who didn't lose his belt and is only hampered by his seeming inability to get out of his own way as arguably the best pound-for-pound fighter to ever compete in the octagon. Because of those views, in conjunction with his somewhat one-sided win over Cormier in 2015, it's likely "Bones" will get the next title shot instead of Manuwa if and when he's able to return when his suspension is up this July.
"Poster Boy" knows that's a probable outcome, yet offered the outside opinion that he could already be booked into a title bout against the winner of Cormier vs. Johnson by the time Jones is eligible to return:
"Possibly, but to me, whatever happens, happens," Manuwa said. "I will be fighting the elite fighters in the world, and I don't know, we'll see what happens. He's back in July or something. [Cormier and Johnson] are fighting next month, so the fight could be made before he comes back anyway, so we'll see what happens. I'm going to fly to Vegas to meet with (UFC president) Dana (White) after this and we'll see what happens."
Manuwa offered his respects for both "DC" and "Rumble," whom he lost a second-round knockout to at UFC 191 and would therefore love to avenge a prior loss. But he also knows Cormier already tapped him out, so he'd definitely love to battle the champion, as well:
"Me and 'Rumble' Johnson are two of the hardest hitters and the most exciting fighters in the light heavyweight division, and I'd love to get a rematch with him to avenge my loss," Manuwa said. "Because I made some silly mistakes with my weight and my striking as well. So, I'd like to avenge that loss against the most feared man probably on the UFC roster in 'Rumble' Johnson.

"But then again, DC is a great champion. He's feared, and he's beat the guy I'm talking about, he's beat Alex (Gustafsson), he's beat a lot of guys in the division. So I'd like to fight him as well."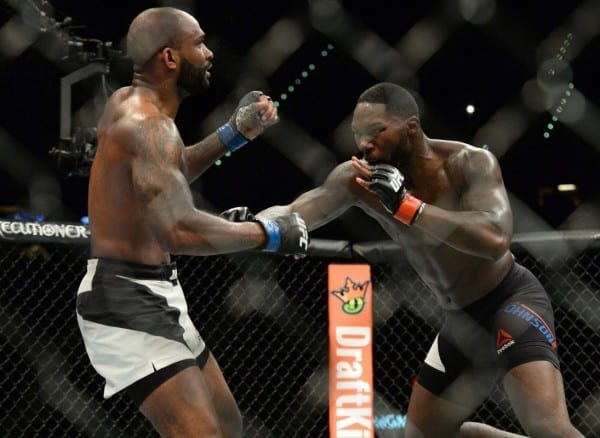 Ultimately, however, the surging power slugger won't turn down a fight, and confirmed that if the UFC wanted him to fight Jones, he would accept the high-profile match:
"Listen, I don't turn down anybody. I'm not scared of anybody. Everyone bleeds. Everyone feels pain. And I've proven through my career that I'm not scared to fight anybody, because it's mixed martial arts. Everyone feels pain, everyone bleeds the same, except if you're out taking steroids. That's what I've got a problem with. So it is what it is. I'll fight Jon Jones, no problem."
If you enjoyed this story, please share it on social media!