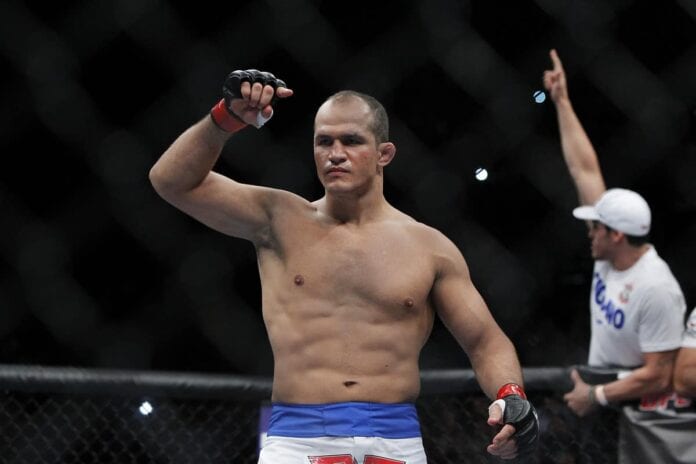 Cain Velasquez was a man many considered to be not only the very best heavyweight on the planet, but one of the best heavyweights of all-time, which is why many were surprised to see him get battered and destroyed by now current champion Fabricio Werdum last June.
It has been said that Velasquez will indeed get an immediate rematch, but a date and a venue has yet to be confirmed.
The former champion is known for his usually impeccable gas tank along with his ability to push the pace for five full rounds until his opponent breaks. However, that Velasquez didn't show up against "Vai Cavalo" in Mexico which surprised three-time Velasquez opponent and former champion Junior Dos Santos.
"Cigano" claimed that while Werdum performed well, he didn't fight the best version of Velasquez (Via Combate):
"I think Werdum did well in his last fight, but in my opinion he did not fight the same Velasquez I fought. Velasquez was exhausted in the first round. That was a complete surprise for me. He was exhausted in the first round. That's unbelievable for someone like him, who fought 10 rounds against me. In the fifth round he was hopping like a kid, so that was odd."
Many have attributed the Mexican altitude to the downfall of the American Kickboxing Academy product which should be a fixable issue for the rematch. That being said, Dos Santos feels as if Velasquez will get the job down next time out, but he may be hoping for a victory from "Vai Cavalo":
"If Velasquez shows up in his usual shape. I think he beats Werdum. But if Werdum keeps the belt and I win my fight. I could be next. It could happen."
"Cigano" is set to return to action in just a few weeks, as he will take on Alistair Overeem at December 19's UFC on FOX 17. While a fourth fight with Velasquez may not be easy to book, a rematch between JDS and Werdum could be quite intriguing given both Brazilians come out victorious.
Do you see Velasquez rebounding, and what does the future hold for Dos Santos?