Current No. 4-ranked UFC heavyweight Junior dos Santos is looking to get back into the title contender picture, when he takes on Stefan Struve in the main event of UFC Fight Night 105, eight years after their initial meeting in which 'JDS' won via first round knockout.
The former heavyweight champ recently spoke to MMA Junkie to discuss his upcoming match-up with Struve, stating he was happy that 'Skyscraper' took the bout after others turned it down:
"What I wanted was to fight," Dos Santos said. "So I was happy he took the fight. It's not relevant at the moment, but there were some athletes who kind of turned it down, made up excuses not to fight. So I was happy he took the fight.

"He's coming off a good moment, good wins. He's right there around the top 10 and I'm sure it will be a great fight."
Dos Santos has been impressed with the evolution of Struve's game since their initial meeting, and doesn't think it's a coincidence the UFC matched them up together, as they're the only two fighters to have defeated current division champ Stipe Miocic in his mixed martial arts (MMA) career:
"Struve has really improved on his standup," Dos Santos said. "But I still see him with good weapons on the ground. Like in his last fight, he pretty much pulled (Daniel Omielanczuk) to the guard. He did a good fight. So he's an athlete who represents a big danger.

"No wonder he was the only one who knocked out the current champion. I beat Miocic, too, but it was a decision after a tough fight. The only one to knock him out was Struve – and I don't think it's by chance that the UFC matched us up, the only two guys who were able to beat the current champion."
Given the fact that No. 1-ranked Fabricio Werdum just lost to Miocic this past May, and No. 2-ranked Cain Velasquez has a surgery set for early next month, 'Cigano' remains hopeful that a title bout is in his near future:
"Of course, in the UFC it really depends on what they want to do," Dos Santos said. "That's why I talked about this issue of not getting a fight and getting back in action. I just came from a surgery, so it was important for me to get back into action to be ready for whatever happens. In case the UFC decides something else, like putting Velasquez or Werdum against Miocic, I'll probably do another fight. I'm ready for that.

"But I don't think it will happen. A win for Velasquez – I don't know exactly, but I've heard he's getting surgery afterward, which benefits me and puts me right there. And in case Werdum wins, I don't think that will be a more interesting fight for the champion than me.

"A rematch between Miocic and I would be a lot more interesting, I believe, considering Werdum lost to him recently. That's my opinion, of course. The UFC makes their decisions, but we need to be positive."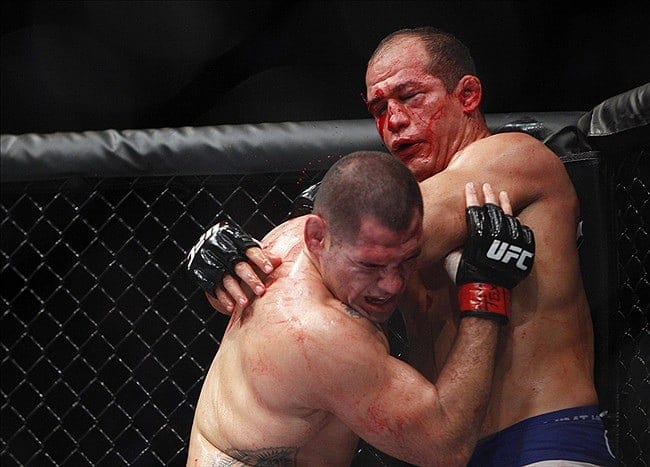 At the end of the day 'JDS' believes he deserves a shot at the heavyweight throne, as he comes off of a win over Ben Rothwell while his fellow heavyweights come off wins over Travis Browne, who dos Santos says is nowhere near contending for a title:
"It's not about whether I'm asking for it – I think I deserve it," Dos Santos said. "I'm coming off a win over Ben Rothwell, the guy who was going to fight for the belt even before Alistair Overeem, had he beat me. He didn't. I won the fight, so he fell a couple of spots. And I ended up not climbing any.

"So it's not that I wanted to fight Miocic, I was deserving of it. Velasquez and Werdum both come off wins over Travis Browne, who wasn't close to fighting for the belt. So, given all these factors, I think I deserved it. But unfortunately it couldn't happen now. I know it will happen and it won't be too long before it does. My goal right now is to perform well."
Dos Santos has not competed for a title since his UFC 166 loss to Cain Velasqez in 2013, and has since gone 2-1 in his following three bouts. With a potential win over Struve, do you think 'Cigano' is worthy of a title opportunity?
Dos Santos and Struve will throw down in the main event of UFC Fight Night 105 from the Scotiabank Centre in Halifax, Nova Scotia, Canada on February 19, 2017.