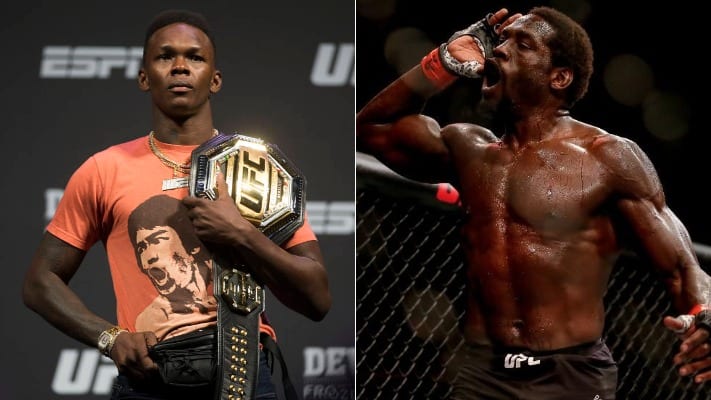 It remains unclear who will challenge Israel Adesanya for the UFC middleweight title next. Adesanya was initially expected to make his first title defense against Paulo Costa. However, the Brazilian suffered an injury that will keep him out-of-action until the second quarter of 2020.
Now, it's been suggested that Yoel Romero could challenge Adesanya in his place. As that materializes, Adesanya recently spoke to MMA Fighting to discuss the state of the 185-pound division at the moment. In regards to current challengers, Adesanya seems very impressed by former light heavyweight competitor Jared Cannonier.
Cannonier comes off a TKO win over Jack Hermansson. Speaking on Cannonier, Adesanya said he believes the heavy-handed challenger is the second-most dangerous fighter in the division, behind himself.
"100 percent I'm looking at him," Adesanya said. "He's a beast in the division. He's the dark horse in the division. He's the guy everyone is sleeping on but you can't sleep on him because you'll get put to sleep.
"I think he's the guy, the second most dangerous guy in the division behind myself. I look forward to fighting him after his next fight."
Adesanya was looking forward to the opportunity to fight a rival in Costa next, and believed the pre-fight trash talk would've helped sell the fight. However, "Stylebender" believes a potential clash with Cannonier sells itself, with no smack talk needed.
"I was looking forward to my next fight, because that would have sold itself," Adesanya said. "Because he would try to trash talk me in his broken English, and I would embarrass him on the mic, and then eventually I'd embarrass him on the mat. So that was already set in stone that it was going to be glorious.
"But a guy like Cannonier, I don't have to. The fight sells itself because of the skill set, and just people want to watch me. Something about me that people just want to watch me get my ass kicked maybe. So they'll be tuning in either way."
What do you think about Adesanya labeling Cannonier as the most dangerous challenger at 185 pounds?